France Inc. Turns to Deals as Hollande Economy Stalls
Matthew Campbell and Jacqueline Simmons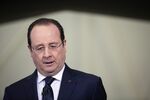 France's Socialist President Francois Hollande may not have planned on a wave of mergers and acquisitions by his country's biggest companies to be a defining feature of his term. That's what he's getting.
France Inc. is on a deal-making tear, with cement manufacturers Lafarge SA and Holcim Ltd. in talks to create a $40 billion global cement giant, and Vivendi SA in the process of leaving the country's wireless industry by selling its SFR phone unit for more than $23 billion. They follow Peugeot SA's $4.1 billion capital-raising effort that's set to bring in China's Dongfeng Motor Corp. as a partner and a shareholder.
The transactions show how France's biggest corporations aren't waiting around for an imminent economic rebound at home. Lafarge and other companies are seeking growth elsewhere with Hollande unable to deliver on a promise to cut payroll taxes by 30 billion euros ($41 billion) and ease regulations.
"One reason French companies are more actively engaged in M&A is the way companies are managed -- more than anywhere else -- is geared toward being abroad," said Philippe Delmas, a former Airbus SAS executive who heads consulting firm PhD Associates. "This is also fueled by the conditions and climate of the country, which are very complicated."
The French economy, Europe's second-largest, has barely grown over the last two years even as trading partners including the U.S. and U.K. are seeing output increase. French jobless claims are at a record high of 3.35 million, holding down consumer spending and wage growth.
Going Global
Even before the Lafarge-Holcim deal, France was by far Europe's most-active country for takeovers this year with more than $60 billion in deals, according to data compiled by Bloomberg. That's more than double the volume in either the U.K. or Germany.
With a relatively small, highly regulated home market, French companies have long thought globally when making deals. Firms including manufacturer Alstom SA, drugmaker Sanofi, and luxury conglomerate LVMH Moet Hennessy Louis Vuitton SA get the bulk of their sales internationally.
One common thread of the biggest French deals is the need to navigate industries with major structural challenges. A merger of Lafarge with Holcim, which would create the world's largest cement manufacturer, could help reduce overcapacity in a sector that has struggled since the recent financial crisis depressed building activity.
"An operation like Lafarge-Holcim is done because it makes business sense and shows how French companies are thinking globally," Delmas said.
Vivendi, Peugeot
Vivendi is trying to exit the French telecoms sector after fierce competition drove down prices for mobile services, forcing job cuts at SFR and market leader Orange SA. Operators' struggles with sluggish consumer spending, high costs for network construction, and tight regulation were compounded in 2012 when discounter Iliad SA entered the market.
Instead of telecommunications, which were championed by ousted Chief Executive Officer Jean-Bernard Levy, Vivendi has said it's planning to focus on media and content businesses, including Universal Music Group, the Los Angeles-based subsidiary that's the world's biggest record label.
Peugeot, meanwhile, which is the French carmaker most dependent on the European market, was hit hard by the region's economic crisis and resulting auto-market glut.
It brought in Dongfeng and the French government to underwrite a 3 billion-euro capital increase after European automotive sales declined for six straight years. Peugeot is now looking to growth in China to spur sales, while Dongfeng is seeking access to technology and overseas markets.
Saving Jobs
In all these deals, the most-difficult task French companies face is to convince the government that their industries' challenges may mean job cuts.
French Industry Minister Arnaud Montebourg openly endorsed a bid for SFR by construction-and-media conglomerate Bouygues SA, warning that a rival offer from cable group Altice SA could result in unacceptable job losses. Vivendi today spurned Montebourg by choosing to accept Altice's bid.
Along with antitrust concerns, layoffs will also be a key point of discussion with politicians in the merger of Lafarge and Holcim, which employ about 7,000 staff in France altogether.
Hollande's government has spoken out against the closure even of single factories by companies like Peugeot and Alcatel-Lucent SA.
"There is still massive oversupply in the industry," Ian Osburn, an analyst at Cantor Fitzgerald Europe, said of the cement sector. "Demand hasn't really recovered from the trough."
Before it's here, it's on the Bloomberg Terminal.
LEARN MORE