Flip My Gulfstream: Hot Demand for the G650 Boosts Its (Used) Price
By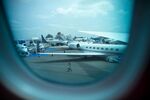 Real estate, shmeal estate. Ultra-rich investors looking to make a quick $10 million have stumbled into a new appreciating asset: Gulfstream's ultra-long-range G650. Only about five dozen of the $64.5 million planes have been delivered in the 17 months since it first entered service, there's a three-year backlog on orders, and Gulfstream prohibits buying someone else's spot in the order queue. That has made demand feverish among billionaires and corporations seeking a luxurious and extremely hard-to-get status symbol.
One of the first people to turn a profit on a new G650 was British billionaire Bernard Ecclestone, the Formula One chief, who reportedly sold the plane to a Japanese group for a $10 million profit. Emerald Aviation, a Virginia-based aircraft brokerage, expects to fetch more than $75 million for its 2013 G650, the company's president told Bloomberg News.
"I don't think it's a case where they're trading like soybeans," says Kevin O'Leary, president of Jet Advisors in Bedford, Mass. "But there have been a few."
Gulfstream doesn't say anything about its customers, and most subsequent sales are handled confidentially. "We want to sell the airplane to people who want the airplane and not just someone who is trying to make a profit on it," spokesman Steve Cass says, but notes that owners can do whatever they please with the plane.
The G650 can carry as many as 18 people and fly nonstop from New York to Dubai or California to Europe. When speed is needed, the jet can cruise at more than 600 miles per hour, or about Mach 0.92, roughly 90 percent of the speed of sound. It has a list price of $64.5 million, but with annual 3 percent to 4 percent inflation "escalators" built into order contracts, buyers will pay a fair bit more. The $500,000 deposit is nonrefundable.
Before it's here, it's on the Bloomberg Terminal.
LEARN MORE