Five Tips for Surviving Sir Alex Ferguson's Harvard Business School Class
by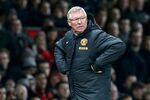 Harvard Business School has announced it will hire former Manchester United manager Sir Alex Ferguson to a "long-term teaching position." Ferguson, who won 13 English Premier League titles in his 26 years with the club, will begin by lecturing "senior executives from around the world" in May as part of the school's new program on the business of entertainment, media, and sports. As a service to those who will be in attendance, here are five tips for getting on Professor Ferguson's good side.
1. Do your homework: Last October, the Harvard Business Review published Ferguson's eight-part "formula" for success. Read it. Learn it. Live it.
2. Don't be late: In fact, you should beat him to class if you can. In his early days with Manchester United, Ferguson was always the first to arrive at work. Later, he writes in HBR, his staff would already be there when he arrived at 7 a.m. He does not believe in off days. "We never allowed a bad training session," he writes. His dictum to players was "If you give in once, you'll give in twice."
3. Don't talk out of turn: Ferguson was absolute about his control of the club. "The name of the manager is irrelevant," he writes in his autobiography, published last year. "The authority is what counts. You cannot have a player taking over the dressing room. Many tried. … That was the death knell for him."
Ferguson doesn't care if you like him. "You can complicate your life in many ways by asking, 'Oh, I wonder if the players like me?'" he writes in HBR. "If I did my job well, the players would respect me, and that's all you need."
4. Save your tears: Ferguson is not one to let poor performance go unremarked. His habit of yelling in players' faces at halftime was known as the "hair dryer." This is Ferguson's more tactful description from HBR: "When you are losing, you have to make an impact. I liked to focus on our own team and our own strengths, but you have to correct why you are losing." The point was to inspire players, but some, according to his former charge Wayne Rooney, crumbled under the pressure.
5. Bring red wine, not apples: And spring for the good stuff. Ferguson's post-match ritual was to share a glass of red wine with opposing managers. His taste is not cheap. He once described the selection brought by rival José Mourinho as tasting "like paint stripper." Next time around, Mourinho brought a £300 bottle of Portuguese red.
Before it's here, it's on the Bloomberg Terminal.
LEARN MORE