The Fed Board Is About to Be Four-Sevenths Empty
By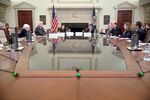 Considering that the Federal Reserve Board of Governors is one of the most powerful bodies in the world, it's a bit alarming that it could soon be four-sevenths empty. Today Governor Jeremy Stein announced that he is resigning effective May 28 to return to his endowed chair at Harvard University.
As an expert in both finance and economics, Stein, 53, played a pivotal role in the Fed's deliberations, as I wrote last year. In February 2013 he gave a widely noted speech in which he said that regulation alone may not be capable of preventing asset bubbles from forming if interest rates stay very low for very long. He said that "while monetary policy may not be quite the right tool for the job, it has one important advantage relative to supervision and regulation–namely that it gets in all of the cracks."
"He had the intellectual heft to speak with authority on financial-market issues and macroeconomic issues, highlighting the potential risks" from quantitative easing, Antulio Bomfim, senior managing director at Macroeconomic Advisers, told Jeff Kearns and Craig Torres of Bloomberg News today.
Beyond being a brain, Stein was a body–something that the Fed is quite short of at the moment. There's Janet Yellen, of course, who became chair in February. Ben Bernanke chose to leave the board when his term as chairman ended. Sarah Bloom Raskin stepped down earlier this month when she was confirmed as deputy Treasury secretary. The only two board members aside from Stein are Daniel Tarullo and Jerome Powell. Powell's term expired in January; he's awaiting confirmation by the Senate to a new term. The Senate also hasn't acted on two other of President Obama's nominees: Lael Brainard, a former Treasury undersecretary for international affairs, and Stanley Fischer, the former head of the Bank of Israel, who would become vice chair under Yellen.
Before it's here, it's on the Bloomberg Terminal.
LEARN MORE