pursuits
The Cult of Brompton Folding Bikes
The cult of Brompton bikes is coming to a sidewalk near you
By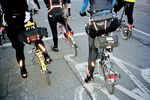 I am on a Brompton folding bike, taking back roads from Heathrow to Windsor, a small town outside of London. It's a short stretch from the airport: around the Queen Mother Reservoir, through the village of Datchet, over the Thames, and past some wet cricket fields near Eton. The bike is a funny-looking thing, snub-nosed with a low-slung frame and small, high-pressure wheels. Folded, it fits in an overhead rack or under a desk. Held from the saddle, it hangs at your side like a well-balanced suitcase. Unfolded, it rides surprisingly like a bike.
The transition requires no tools. Flip the rear wheel under the frame, wrap the front wheel back, drop the seat, drop the handlebars. You can fold the Brompton in as few as seven seconds. The last bit of the stem drops into place with a satisfying click and a ring.
Waiting at a cafe in Windsor are a dozen members of the London Brompton Club. Several of them tell the same story: They bought a Brompton for a bike-train commute. Then they fell in love.
"We treat them like children, babies, literally," says Andrew Barnett, one of the club's co-founders. "I dry the bike off before I dry myself off." Both he and his bike are clad, helmet to wheels, in yellow-and-black stripes. He keeps a blog under the name Brompton BumbleBee, and he's not the only one there dressed to match his ride.
My Brompton is lime green. It's borrowed from NYCeWheels in Manhattan, the largest importer of Bromptons in the U.S. I tell the club members I'm fresh from an overnight flight and have Bromptoned with my luggage straight from the airport to meet them. They say this is "very Brompton."
The group is dressed for a 25-mile ride around the Windsor Great Park: toe clips, tights, and jerseys. I'm in leather shoes, jeans, and a wool blazer. It occurs to me that I'm about to make a fool of myself. We set off.
Brompton had its first production run in 1988. In the year ending March 2014, it sold 45,000 of its folding bikes, with revenue of £21 million ($35 million). The bike has established itself as a commuting tool in the U.K., Germany, Hong Kong, Singapore, and Japan. Sales have recently grown 20 percent annually.
On the street in London, the bike is so common it no longer merits a hey-I-have-one-too nod. But in the last year, the company sold only 3,000 bikes in the U.S. In New York the Brompton is enough of a novelty that, as I folded it on a train platform on my way to JFK, a twentysomething removed her headphones long enough to say, "Cool bike."

In 2001, Americans took 1.7 billion bike trips, according to an analysis of Federal Highway Administration data by the League of American Bicyclists. By 2009 that number had more than doubled, to 4 billion. Brompton is turning to the U.S.: The company already has an office in Portland, Ore., and is planning one for New York in the fall, where it's also considering a retail store.
Folding bikes such as the Brompton don't depend on bike-friendly infrastructure the way traditional ones do. The Brompton fits into a small apartment or even a coat check at a restaurant. And you can take a folding bike onto a commuter train during peak hours, when road bikes often aren't allowed. New York has by far the highest percentage of transit riders in the U.S. and the highest number of walking commuters.
"Our market, they're not cyclists," says Will Butler-Adams, Brompton's managing director. "They're just people who are pissed off at how they live in a city." The Brompton, he says, is "a solution to an urban living problem."
Starting at $1,250, the Brompton, which comes in one, two, three, or six speeds, is at the higher end of the folding-bike market. NYCeWheels lists models from Dahon, a manufacturer in Taiwan, for as little as $420. Tern, also in Taiwan, sells a range of folders, from a $550 single-speed to a superlight road bike for $3,000. Montague, started in a garage in Washington, D.C., sells a starter folder for $660. "The Brompton folds smaller than any of the other models," says Peter Yuskauskas, manager of NYCeWheels. And it rides well enough to compete with traditional road bikes, he says. "It's kind of our perfect product."
It's the Brompton-as-religion that distinguishes the bike from its competitors. There are Brompton clubs in at least 10 cities. In New York, a group of Brompton-owning foodies has organized a bimonthly event called Brommie Yummie: Ride, fold, eat, unfold, ride.
In Windsor, whenever the London Brompton Club stops, there's just enough time for me to catch up and remove another piece of clothing. The other riders dismount and take snapshots with their bikes in the foreground, as if they are on vacation and the bike is a partner. (This is a standard photo for Brompton blogs, of which there are many.) Several Bromptons out together, they say, is not a group or a flock. It's a fold.
Over beer and fries at a roadside pub, Titus Halliwell, a policeman, shows me pictures of his Brompton in Mumbai and Miami. "It's free transport when you get there," he says, "and it lives quite nicely in your hotel." You don't just buy a Brompton; you buy into it. For a quick grand, you're purchasing a sense of possibility, a package small enough to gate-check and solid enough to get you on the road when you arrive.
The Brompton was created in 1975 by Andrew Ritchie, a Cambridge-trained engineer. He began designing the bike in an apartment near London's Brompton Oratory. Backed initially by a group of 10 patient friends (at £100 each), he produced the first run of 30 bikes in 1981. He intended to sell his design, but no one wanted to buy. Framed in the main stairwell in the Brompton plant in West London is a rejection letter from U.K.-based Raleigh Bicycle. Next to it is a note from Barclays denying a small business loan. Ritchie went back to his investors and decided to start manufacturing bicycles himself.
"At the time," he says, "I thought 'Oh, s-‍-‍-, I've got to go organize all the jigging and the tooling.' " But in building the bicycle himself, he says, he had to make it better. No large company would have been as obsessed with its construction. "In the early days, we had a very big Scot with legs like tree trunks," he says. "He would regularly break Bromptons. It was fantastically useful for us."
Ritchie seems embarrassed by the idea of marketing. An early print ad for the bike simply showed it folded in a broom closet, like an appliance. He gave foreign distribution contracts almost haphazardly, to people who were persistent enough. His business strategy was simple: Build it well. "If the thing carries on being a reasonably loyal servant, people will talk about it," he says.
Now 67, Ritchie has stepped away from active management. His successor, Butler-Adams, also trained as an engineer. He is tall and constantly in motion, and he does not share Ritchie's gift for understatement. When I mention that the Brompton seems geared for speed rather than climbing, he says I'll grow into it. He asks, with glee, whether I can guess how many parts there are in a Brompton (1,200). We walk to the factory floor, which he has reorganized in the last two years to more than triple production. He stops at the coordinate measuring machine, a massive arm with a tiny probe that's touching a piece of frame, ensuring a tolerance to 0.5 millimeters. This isn't a standard piece of kit in a bike factory. "The fold is a compromise," Butler-Adams says. "Everything else must not be a compromise."
There are more toys: a machine that measures the magnetic field around a hinge fitting so the casting contains no bubbles. "If we were run by accountants, you wouldn't have this," Butler-Adams says. "But we're engineers. There were tiny cracks in the hinge, and it pissed us off." Bromptons are brazed, not welded; brazing causes less heat stress, which enables a thinner tube.
The company has never moved its manufacturing out of London for the same reason it let its patents lapse. The secret is not in the design, but how the bike is made. If Brompton ever published its methods or outsourced its production, someone else could learn how to make the bike. After that, Butler-Adams says, "it's good luck—we'll see you in court in China."
Ritchie realized he'd built something more than a bike, he says, at a Brompton rally near Dorchester in 1990. When he arrived, 300 people were standing in front of their folded bikes, performing a traditional English dance. He opened his car door, and they all ran to unfold their bikes and ride away, a piece of fan-club performance art. "That was the first manifestation of group madness," he says, "of hysteria."
My fold of Bromptons comes to a halt. Near the end of the ride, the group is as close as it can get to Windsor Castle. A broad paved road leads to the Queen, but bicycles are prohibited. We stand in front of the castle, hold our bikes in the air, and wait for a group picture. I am sweaty, jet-lagged, and exhausted. From within the fold comes the voice of the BumbleBee. "You will be assimilated," he says.
Before it's here, it's on the Bloomberg Terminal.
LEARN MORE