Sonos, the Wireless Speaker Champ, Has New Competition
The wireless audio leader is rolling out new products and software
by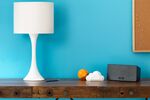 For almost 10 years, John MacFarlane had the market for wireless home audio equipment to himself. With two friends he started Sonos, an audio company that designs speakers that connect with streaming music services such as Spotify and Pandora. An accompanying app lets users browse their music libraries on phones or tablets and send playlists to any Sonos modular speaker unit. Music snobs, unhappy with the tinny sound quality of PC speakers, were quickly won over by the high-fidelity system and its ease of use.
The company is facing its first big challenge as rivals target its piece of the $10 billion home audio market. "With Wi-Fi speakers, until recently you really were talking mainly about Sonos," says Jack Wetherill, an analyst with Futuresource Consulting in Dunstable, U.K. Wireless speakers are the fastest-growing category in the consumer audio-equipment market, accounting for 17 percent of global speaker revenue in 2013, according to Futuresource. Bose is introducing the SoundTouch, wireless speakers that can be programmed to play favorite stations or artists and have built-in displays.
In late April, Samsung Electronics will introduce streaming technology to some of its televisions and audio products to use with its $350 Shape wireless speakers. The South Korean maker of Galaxy phones and tablets is adding Bluetooth capability and near-field technology to give users more ways to stream. "From a name-brand perspective, we like our chances," says Jim Kiczek, director of digital audio and video at Samsung Electronics America.
To defend its turf, Sonos, based in Santa Barbara, Calif., is counting on an expanded lineup of speakers and other products. In May it will release a redesigned Controller app with universal search, which lets users find songs, albums, and artists from a long list of streaming services, all in a single window. A typical Sonos setup of two Play:3 speakers ($299 each) and a wireless subwoofer delivering room-shaking bass can cost more than $1,000. But the company recently released the Play:1 speakers at a lower $199 price.
Sonos brought in $535 million in revenue in 2013. It has 900 employees globally and has received $135 million in funding from venture capital firms including KKR and Redpoint Ventures. In early March the company lured the chief product officer for Microsoft's Xbox unit to the same, newly created position at Sonos.
The company barely makes a profit, given the money it pours into research and development. It holds 200 patents and isn't afraid to enforce them in court. Sonos plans to disclose pending patent applications as well, says co-founder Tom Cullen, to discourage competitors from using its technologies and designs.
Sonos is exploring new uses for its speakers and potential partnerships with makers of smart-home products, MacFarlane says. The devices could be connected to all sorts of gear, he says, delivering voice alerts from Nest Labs' smart thermostats and wireless doorbells. "We've been doing this for a while. It's going to take a lot of time for people to catch up," MacFarlane says.
Before it's here, it's on the Bloomberg Terminal.
LEARN MORE