Russia's Growth Was Already Slowing—Then Came Crimea
Capital flight and flagging business confidence may lead to a recession
by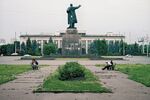 Elena Sokolova, who owns a cafe in downtown Moscow, says she's had enough of President Vladimir Putin's Russia and the arbitrary ways of the government. After the Russian leader seized Ukraine's Crimea peninsula, sparking the worst geopolitical standoff since the Cold War, she and her family applied for residency in Bulgaria, a member of the European Union. "I can't live without Russia—I love it," she says. "But I'm really frightened at what's going on in our country right now. Anything can happen to me or my business, so I need the chance to get out of here, maybe forever."
As Russia's ties with the West and its business climate deteriorate, the world's largest energy exporter risks years of slow growth that could deepen its dependence on oil and gas and strengthen the state's dominance of the economy. "Even before Crimea there was a slowdown," says Sergei Guriev, a leading Russian economist and Putin critic who fled Russia for France last year and teaches at Sciences Po in Paris. "Now there are huge negative implications for the Russian economy as isolation will continue and worsen."
U.S. and EU sanctions imposed because of the annexation of Crimea have targeted only a few dozen Russian officials and lawmakers as well as a handful of billionaires close to Putin. Already, though, the crisis has shaken business confidence, raising borrowing costs, slicing billions off the value of Russian stocks, and damping foreign investors' appetite for Russia. If Putin orders forces to occupy eastern Ukraine, the West has warned it will reply with punitive measures similar in severity to those used to isolate Iran. Such an escalation of sanctions would wipe out a third of the ruble's value and undo 10 years of progress in financial and monetary policy, according to Russian government officials who spoke on condition of anonymity.
"The sanctions haven't had a significant effect yet economically, but the cooling of ties is a significant negative factor for economic growth, and it's feeding into capital flight, which was already high," Deputy Economy Minister Andrey Klepach told reporters on March 24. Up to $70 billion may have fled Russia in the first three months of the year. That compares with about $63 billion for all of 2013, he said.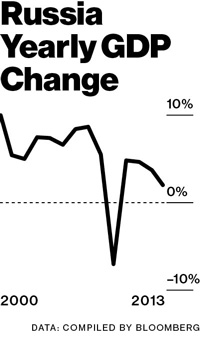 The tensions over Crimea are the latest in a long list of problems that have led to economic slowdown and capital exodus. The expansion of Russia's $2 trillion economy decelerated for a fourth year in 2013, after consumer spending fell and investment sagged along with demand for energy. State-run VTB Capital forecasts the economy will post zero growth this year. Russia is the world's most corrupt major economy, ranking alongside Pakistan and Nicaragua at 127 out of 176 nations in the annual Corruption Perceptions Index compiled by Transparency International. Educated middle-class Russians such as Sokolova are voting with their feet. In recent weeks, inquiries by professionals from Russia seeking refuge in eastern Europe have jumped, says Katya Ponomareva, who runs a consultancy on investments in Latvia and Bulgaria.
The capital flight echoes the aftermath of Putin's last military foray into a former Soviet republic, Georgia, in August 2008, a month before Lehman Brothers collapsed. From the onset of the war with Georgia through February 2009, investors pulled at least $290 billion out of the country, estimates BNP Paribas.
Adding to the sense of isolation is Russia's suspension from the Group of Eight leading economies in retaliation for Crimea's seizure. That followed a decision by the Paris-based Organisation for Economic Co-operation and Development to block Russia's accession to the club of wealthy nations. "Moscow has just lost a seat at the decision-making table of the top industrialized countries," says Lilit Gevorgyan, senior analyst at IHS Global Insight in London. "This marks a setback for all those market liberalization efforts that, at times, President Putin was spearheading himself to ensure that Russia is a fully integrated member of leading economic clubs and organizations, including the WTO and G-8."
Putin, whose popularity ratings are at a five-year high of about 80 percent, and his close allies don't seem too worried. "There's a global economy which the U.S. and Europe haven't been masters of for a long time,'' said Putin's oil czar, Igor Sechin, in an e-mail. Sechin is chief executive officer of Rosneft, which has the world's biggest crude reserves. Russia's richest man, billionaire Alisher Usmanov, has sold shares in Apple and Facebook to focus on technology investments in China such as Alibaba. Usmanov, who made his fortune in metals and mining, may also expand stakes in Russian assets, according to his holding company, USM Advisors.
Ivan Tavrin, the CEO of Russia's second-biggest mobile phone operator, USM-controlled MegaFon, shrugs off the impact of the Ukraine dispute on the company's business, which is almost entirely Russia-focused. With revenue growing at almost double-digit levels, cell phone industry fundamentals in Russia "are much stronger" than elsewhere in the world, he says.
To counter the effect of existing sanctions, the government plans to buy more domestically made goods, speed up infrastructure projects, and ask state-run companies such as Gazprom and Russian Railways to accelerate investment spending. With oil prices still at $107 a barrel despite an 11 percent price drop from the previous year, the Kremlin expects a balanced budget in 2014.
In the longer term, forecasts made last year by the economy ministry of a 2.5 percent annual growth rate until 2030 are now optimistic, says Guriev, the self-exiled economist. As Russia becomes less integrated in the world economy, it will lose access to financial markets and miss out on the discipline that healthy competition imposes. He adds that government ministers who favored free-market policies have been sidelined: "Now we'll be relying more and more on government monopolies." Russia needs Western technology to help it diversify its economy away from natural resources, he says.
The European Bank for Reconstruction and Development said in December 2012 that Russia was becoming increasingly dependent on commodities and failing to prepare for a predicted fall in oil production in 20 years. Oil and natural gas accounted for almost 70 percent of the country's export revenue, the EBRD reported, vs. less than half in the mid-1990s. The state's share of the economy is more than half, according to BNP Paribas. It was 30 percent in 1999.
The state's growing dominance is felt by entrepreneurs, especially those who pose a challenge to Putin's power. Alexander Vinokurov, a former investment banker who put millions of dollars of his own money into the launch of TV Rain, the country's last independent nationwide news network, says his company risks closure after major cable operators dropped it in a political move ordered by government officials to silence criticism. He warns that TV Rain's treatment is typical of what's holding Russia back. "We aren't spies; we're a private business that's made in Russia," he says.
Before it's here, it's on the Bloomberg Terminal.
LEARN MORE