Ruble Drops With Stocks on NATO Warning: Russia Reality Check
David Wilson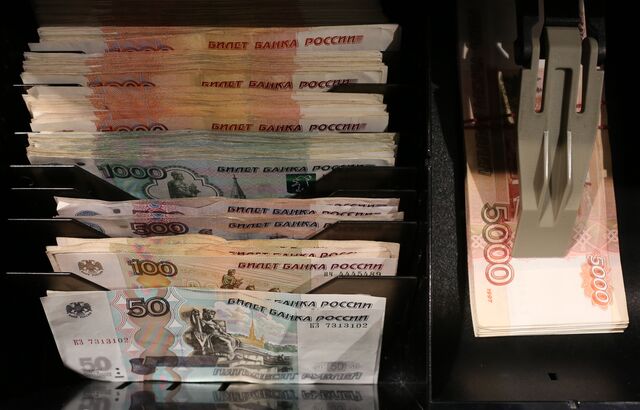 As markets react in real time to Russia's incursion into Crimea and the annexation of the Black Sea peninsula, stocks and the ruble dropped after NATO leaders warned against a further push into Ukraine.
The ruble weakened 0.3 percent to 35.5385 per dollar, paring a 0.9 percent gain since since before President Vladimir Putin's intervention in Crimea from March 1 sparked the standoff between Russia and the U.S. The chart shows the performance of stocks, bonds and the ruble, along with indicators of the investment risk associated with Russia.
The Micex stock index declined 0.5 percent to 1,366.04, extending its drop since February to 5.5 percent. The yield on government ruble bonds due February 2027 fell one basis point to 9.01 percent, a 65 basis-point increase since Feb. 28.
The top panel displays the value of the Micex Index of 50 Russian equities, government debt in the Bloomberg Russia Local Sovereign Bond Index, and the ruble relative to the dollar. Credit default swap rates on Russian bonds due in five years appear in the bottom panel. The yield gap between Russian debt and U.S. Treasuries and the one-month implied volatility of the ruble are also tracked.
Before it's here, it's on the Bloomberg Terminal.
LEARN MORE