Orban Poised to Retain Rule in Hungary After Weekend Vote
Zoltan Simon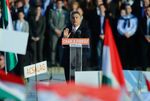 Hungarian Prime Minister Viktor Orban, whose centralization of power triggered confrontations with the European Union over the past four years, is set for an election victory that may silence critics at home and abroad.
The 50-year-old leader's Fidesz party, which since 2010 had a two-thirds parliamentary majority that allowed it to rewrite the constitution and pass any law, is set to trounce rivals in the April 6 election, according to surveys by the polling companies Ipsos, Median, Nezopont, Tarki and Szazadveg.
Orban used his supermajority to overhaul institutions, staff agencies such as the central bank and public media with allies and rewrite election rules. He clashed with international partners and foreign investors as he weaned the budget off International Monetary Fund aid with steps including the seizure of private-pension fund assets and industry taxes that helped cut the deficit while curbing investment and economic growth.
"Orban has carried out the most significant concentration of power since" the end of communism, said Gabor Filippov, an analyst at political research institute Magyar Progressziv Intezet in Budapest. "He did that by using the rhetoric of a freedom fighter to blunt criticism against his government."
The forint has weakened 14 percent against the euro in the past four years, more than the currencies of other eastern EU members that haven't adopted the euro such as Poland, the Czech Republic, Romania and Bulgaria. The benchmark BUX stock index fell 27 percent, compared with a 2.8 percent decline in the MSCI Emerging Markets Index.
Gains on forint debt at 38 percent were better than those for Poland and the Czech Republic, yet were the worst at 6.5 percent when adjusted for price fluctuations, according to the Bloomberg Riskless Return Ranking.
Double Support
Fidesz had 36 percent support among eligible voters compared with 18 percent for an opposition alliance led by Socialist Party President Attila Mesterhazy, according to a Median poll published in the HVG weekly yesterday. The Jobbik party, which describes itself as "national radical," had 15 percent support. No margin of error was given for the March 21-25 poll of 1,200 people.
"The real question appears to be not who'll win the election but the size of Fidesz's victory -- whether Orban will retain his two-thirds majority," Median Director Endre Hann said by phone. He added that Median polled more than 2,000 people to get the responses, suggesting a degree of uncertainty with results as voters are reluctant to answer.
New Rules
Polls indicating an overwhelming Fidesz win are misleading because Hungarians are "scared to voice their opinions" as they fear retaliation by the government, Mesterhazy said in an April 1 interview. Fidesz may win a "narrow" legislative majority, the party's parliamentary leader, Antal Rogan, told the news website HVG.hu April 1.
Voting under new election rules for the first time also adds to the uncertainty. Ditching rules enacted when Hungary shed communism 24 years ago, Fidesz cut the number of lawmakers by almost 50 percent, redrew electoral districts and introduced a method of converting votes to seats that rewards the winner.
The changes contribute to making the election "no longer fair," former Prime Minister Gordon Bajnai said March 30 as he campaigned for the opposition alliance. The government and Fidesz reject the assessment.
Orban, a father of five, is seeking add to the eight years he already spent as Hungary's premier, including a 1998-2002 stint, more than any other politician since the end of communism 25 years ago.
Student Leader
He burst onto the political scene as the Cold War world order crumbled. A self-described liberal, anti-communist student leader in 1989, Orban called on Soviet troops to leave Hungary. He's been a member of parliament since 1990 and first became prime minister at the age of 35 in 1998.
The two-thirds parliamentary majority won four years ago helped the government fight EU bureaucrats and banks, Orban told a cheering crowd on March 15.
Objections, over which Orban mostly prevailed, included the erosion of checks and balances, such as a cut in the Constitutional Court's powers, the ouster of the Supreme Court's chief justice and the creation of a media watchdog exclusively led by ruling-party appointees.
In the economy, Orban focused on keeping the budget deficit under control to keep EU funds flowing, while trying to stick to a pre-election pledge to end austerity. Rather than using direct taxes to raise revenue, the government introduced Europe's highest bank levy and a transaction tax on commercial lenders as well as special taxes on telecommunications and energy companies.
Growth, Budget
Investment fell 5.2 percent in 2012, the fourth consecutive year of contraction, according to the Budapest-based statistics office. It has trailed eastern EU peers every quarter for the past four years, according to Eurostat data. Investment climbed in 2013, helped by a 34 percent increase in government spending, including on public works programs that boosted headline employment data.
That contributed to the economy growing 2.7 percent in the fourth quarter from a year earlier, the biggest increase in seven years. The budget deficit was 2.2 percent of GDP last year, which means the country is poised to avoid returning to EU monitoring for fiscal offenders, Economy Minister Mihaly Varga said March 31. Hungary exited the excessive-deficit procedure last year for the first time since it joined the bloc in 2004.
"Another super-majority" for Fidesz "may spook a few observers and spark some worries that an emboldened Fidesz may once again embark on a path of unorthodoxy," Pasquale Diana, an economist at Morgan Stanley in London, said in an April 2 report. "Though we seriously doubt that the next four years will be as eventful as the last four."
Before it's here, it's on the Bloomberg Terminal.
LEARN MORE