Mobius Says MSCI China Plan Bad Idea as Coutts Sees Flaws
Weiyi Lim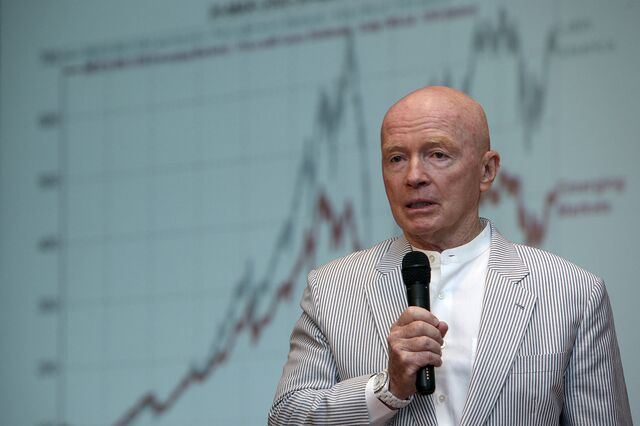 MSCI Inc.'s plan to add China's domestic shares to its global indexes is drawing opposition from Templeton Emerging Markets Group and Coutts & Co.
The proposal is a "very bad idea and will make the indices increasingly irrelevant," Mark Mobius, who oversees about $50 billion as executive chairman of Templeton Emerging Markets, said in an e-mail. The shares shouldn't be included because of limited quotas for overseas investors and an uncertain tax regime, said Kenneth Sue, head of products & services for Asia at Coutts, which counts Queen Elizabeth II among its clients.
MSCI, whose indexes are used to measure performance by money managers with an estimated $8 trillion of assets, is consulting with investors on its China plan as the world's second-largest economy takes steps to open up its $3.3 trillion stock market to foreigners. The index provider's proposal, which would lure about $12 billion to China's domestic shares, has elicited mixed responses from investors so far, Chia Chin-ping, a Hong Kong-based managing director at MSCI, said on March 24.
China's domestic shares are "sufficiently different from other securities that can be freely traded across an exchange," Sue, whose firm oversees about $50 billion, said by e-mail yesterday. "It would not be appropriate to include A shares into an investable index."
Market Access
Mobius, an investor in emerging markets for more than 40 years whose $12 billion Templeton Asian Growth Fund has outperformed 90 percent of peers tracked by Bloomberg this year, didn't elaborate in today's e-mailed message.
MSCI will include the proposal in its 2014 review of market classifications, to be announced in June, the company said in a statement on March 11. It plans to implement the proposal in May 2015, subject to feedback from market participants.
The index provider will probably contact between 2,000 and 3,000 global investors in the next three months before deciding whether to include A shares, Chia said in an interview last month. He declined to comment in an e-mail response to questions from Bloomberg News today.
Adding China's domestic shares to MSCI indexes may expose investors to a wider range of companies in the world's fifth-biggest equity market. The MSCI China Index, which consists mostly of mainland companies listed in Hong Kong, has 140 stocks, data compiled by Bloomberg show. That compares with about 1,000 in the Shanghai Composite Index and more than 1,600 in the Shenzhen Composite Index.
Stock Retreat
"I am in favor of including A shares to the MSCI indices," Robbert Van Batenburg, a director of market strategy at Newedge Group SA in New York, wrote in an e-mailed response to questions. "It will however be a very gradual inclusion and presumably contingent upon further liberalization of the A shares market."
Regulators in China restrict overseas investors to foreign-currency denominated B shares, while institutions approved under the Qualified Foreign Institutional Investors program can invest in yuan-denominated A shares. Approved QFII quotas total about $54 billion, according to the State Administration of Foreign Exchange.
The China Securities Regulatory Commission has been expanding those quotas, cutting trading fees and pushing companies to increase dividends in a bid to revive demand for stocks after the Shanghai Composite dropped 35 percent in the past four years. CSRC Chairman Xiao Gang said on March 11 the country plans to expand the QFII program further this year.
China has started to open up its capital markets as it seeks a greater role for the yuan in global trade and investment, loosening controls as part of the biggest economic overhaul since at least the 1990s.
The MSCI China index climbed 0.2 percent at 2:57 p.m. Hong Kong time, paring this year's decline to 5 percent. The Shanghai Composite slipped 0.8 percent, bringing this year's retreat to 3.5 percent.
Before it's here, it's on the Bloomberg Terminal.
LEARN MORE