In a World Where Robots Feed You Sweets ...
by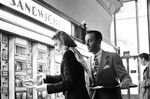 So I withdrew a pair of cupcakes from the ATM on Tuesday.
That would be the Cupcake ATM at Sprinkles in New York, on Lex between 60th and 61st, where I waited on line for 12 minutes.
The 16-person queue of slightly excited, slightly embarrassed office workers and tourists confused some passersby -- Sprinkles itself is right next to to the Cupcake ATM and had no line at all -- and prompted more than one to photograph us, like penguins at the zoo.
"You have too much time," a man told me. I could have said, "This is my job," but it didn't feel like that would end the conversation. I withdrew two cupcakes, at $4.25 each, and the three of us headed back to the office.
It's not as novel as it might seem. A hundred years ago we had the Horn & Hardart Automats , where trays of food sat in little transparent sarcophagi. Customers would peer through the glass at a pastrami sandwich, drop in a coin, lift up the door, and lunch is served, Madam.
"Americans hated tipping," says Michael Lesy, co-author of "Repast: Dining out at the Dawn of the New American Century, 1900-1910 " and a professor at Hampshire College. "Not just because they were cheap. They wanted to get their food and not be beholden to anyone."
The Automat, which was launched in 1902, was wildly successful. "It was futuristic, but it combined comfort food," says Lesy. "Everyone went."
After World War II, as more and more people left the city for the suburbs, the Automat began to decline. "They couldn't keep the stuff turned over quickly," Lesy says. "Things got stale."
(Guess when the last one closed. 1932? 1973? 1991, along with the Soviet Union.)
Now comes Sprinkles to modernize the process, but just barely. You choose your cupcake on a touch screen and swipe a credit card, and a metal gate opens with your selection. Easy and fun!
And a little stale! My lemon coconut was OK. My black and white tasted a good deal more mature. A colleague confirmed it, adding, "I truly wish I hadn't eaten that."
"There wasn't a backlash to the hype or anything," says Lesy of the Automat. "They just couldn't maintain the quality."
I've made only one withdrawal from Sprinkles. Maybe it was a cupfluke. Sprinkles adds fresh confections four to five times a day, says Nicole Schwartz, vice president of marketing. She says the ATM is restocked at midnight "one last time before switching off the lights."
Switching off the lights on the store, that is. The ATM will be online 24/7, dispensing the currency of childhood at all hours.
Before it's here, it's on the Bloomberg Terminal.
LEARN MORE