Seamless.com Owner GrubHub Surges After $192 Million IPO
Leslie Picker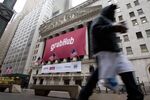 GrubHub Inc., which lets hungry city dwellers order food online, surged in its trading debut after raising a higher-than-expected $192 million in an initial public offering.
The shares rose 31 percent to $34 after the company, which runs websites including Seamless.com and Menupages.com, and its shareholders sold the stock at $26 apiece.
GrubHub charges restaurants a commission when a customer places a takeout or delivery order through one of its websites, and investors are betting the Chicago-based company can keep expanding beyond 28,800 restaurants in 600 cities from San Francisco to London to capture more users. Rival Just Eat Plc, rose 9 percent yesterday after raising about $600 million in the largest e-commerce IPO in almost three years, data compiled by Bloomberg show.
"GrubHub fits this pattern of very successful IPOs that operate in a niche industry, linked to the U.S. consumer and technology," Josef Schuster, founder of Chicago-based IPOX Schuster LLC, said by phone. "They benefit from risk appetite being so strong in the stock market and from the positive momentum."
High Valuation
GrubHub processed more than 135,000 revenue-generating orders each day in 2013, on average, its IPO filings show. Revenue rose 67 percent to $137 million last year. It ended trading today with a valuation of about $2.67 billion, or about 19 times last year's revenue.
E-commerce companies in the U.S. fetch an average of 2.5 times last year's sales, while Internet services companies trade at over 6 times, data compiled by Bloomberg show. GrubHub lists its competitors as traditional restaurants, which trade at much lower valuations. The Bloomberg U.S. Full-Service Restaurant Index, which includes Buffalo Wild Wings Inc. and Darden Restaurants Inc., trades at about 1 times sales.
GrubHub's appeal lies in the fact that it is a combination of an established and profitable business -- Seamless North America LLC, which was spun out of food-service provider Aramark Holdings Corp. in 2012 -- and the younger GrubHub, said James H. Gellert, chief executive officer of Rapid Ratings International Inc. The two companies merged last year.
"The combination has excellent market share and are known brand names," Gellert said yesterday. "IPO investors may well be attracted to the names, market leadership position and growth potential."
GrubHub was founded in 2004 by its current Chief Executive Officer Matthew Maloney. Its backers, including Spectrum Equity Investors LP and Warburg Pincus LLC, are also selling shares in the IPO, filings show.
Citigroup Inc. and Morgan Stanley are managing the IPO. The shares will be listed on the New York Stock Exchange under the symbol GRUB and are expected to begin trading today.
Before it's here, it's on the Bloomberg Terminal.
LEARN MORE