business
Japan Prepares to Turn Back on (Some of) Its Nukes
By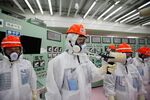 Three years after the Japanese tsunami, some who were displaced by the Fukushima disaster can finally go home. The slow recovery for Japan's nuclear industry took a small but symbolically important step forward on Tuesday, when the government allowed some residents to return to their homes near Tokyo Electric Power's crippled complex. By lifting an evacuation order, authorities are permitting about 350 people to go back to an area 20 kilometers (12 miles) from the power plant, Bloomberg News reported yesterday.
That's progress, albeit tiny: Three years after the earthquake, 98,000 people remain living in temporary shelters.
Still, companies involved in the nuclear power business are hoping they'll soon get some relief, too, as the government of Japanese Prime Minister Shinzo Abe is trying to relaunch some of the country's nuclear reactors. Ten may win approval to go back online this year, according to the median of 11 analyst estimates compiled by Bloomberg in January. Japan's Nuclear Regulation Authority on March 13 said it would expedite checks on two Kyushu Electric Power reactors in southwest Japan to see if they meet tougher safety standards. Kyushu Electric is one of four utilities that have applied with the NRA for safety checks.
In another move toward turning back on the reactors, Abe's Liberal Democratic Party on April 3 reached an agreement with coalition partner New Komeito on an energy policy endorsing nuclear power. The two parties consider it "an important base-load energy source" and will now meet with members and submit the policy for Cabinet approval, LDP lawmaker Taku Yamamoto said at a press conference, Bloomberg News reported on Thursday.
Nuclear reactors produced about 30 percent of Japan's power supply before the Fukushima meltdown, according to the World Nuclear Association, and the total was on track to exceed 40 percent by 2017. Then the earthquake and tsunami hit, and Japan took all of the country's nuclear plants offline. The suspension of the plants has contributed to a big increase in costs for Japanese utilities and has put a strain on the country's trade balance. Last year, Japan's bill for fossil fuels reached 27.4 trillion yen ($264 billion), 50 percent higher than in 2010. Thanks to its huge energy bill, Japan has had 20 consecutive months of trade deficits.
The economic impact of going nuke-free is clear, but with so much of the Fukushima area still off-limits to residents, Japanese know very well what can happen when things go wrong at a nuclear plant. As Bloomberg News reported in March, a poll by the Tokyo Shimbun newspaper found 69 percent wanted an end, either immediate or over time, to the use of nuclear plants.
Is the industry better prepared to handle disasters like the one that hit Fukushima? Before the tsunami, Japanese nuclear plants "were not up to the highest of international standards," Seth Grae, chief executive officer of Lightbridge, a McLean (Va.)-based developer of nuclear fuels, told Bloomberg Television on Feb. 26. Now, Japanese operators "have been putting in tremendous new standards."
Critics aren't convinced. "Japan should not be a playground where politicians toy with nuclear energy," Kumi Naidoo, executive director of Greenpeace International, wrote in a column published by the Japanese news service Kyodo on March 24. "Three years on from Fukushima, Japan needs an Energy Revolution and is best placed to have one, in the interest of all its children."
(Updates with LDP and New Komeito agreement in fourth paragraph.)
Before it's here, it's on the Bloomberg Terminal.
LEARN MORE