Local Casinos Are a Losing Bet
Northern Mississippi's largest casino will close in June. It won't be the last
By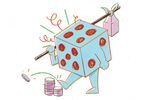 The Harrah's casino in Tunica, Miss., features a spa, three pools, a golf course, and a shooting range. But there's one thing the 18-year-old facility, the largest of 10 casinos in the area, sorely lacks: gamblers. The northern Mississippi casino industry saw gaming revenue shrink to $738 million last year from $1.2 billion in 2006. So Harrah's parent, Caesars Entertainment, will shutter the resort on June 2, putting as many as 1,300 employees out of work. "There's just too much supply in that market," says John Payne, president of Caesars's central markets division, which will concentrate on two other casinos it owns in Tunica. "The Harrah's has not been profitable for a while."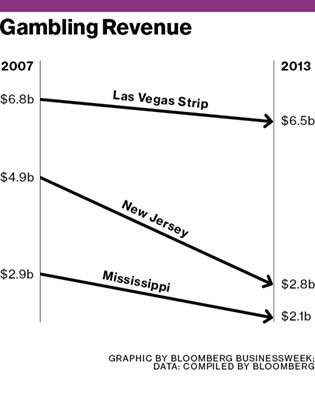 The closing could be a sign of things to come as the $38 billion U.S. gambling industry bumps up against two unlucky trends, a proliferation of casinos and still-skittish consumers in the wake of the financial crisis. Some 39 states have casino gambling of some kind, up from only two in 1988, and more Las Vegas-style resorts are on the way in New York, Pennsylvania, Massachusetts, and Maryland. "They have saturation problems," says William Thompson, a professor at the University of Nevada at Las Vegas who studies the industry. "We have a wave of new casinos coming."
In January, New Jersey's Atlantic Club Casino Hotel, formerly the Atlantic City Hilton, shut its doors, a victim of increased competition in the mid-Atlantic region. Gambling revenue in the Garden State has fallen 44 percent since its peak in 2006. Five of Atlantic City's 11 remaining casinos lost money on an operating basis in the nine months through September, according to the state's Division of Gaming Enforcement.
Casino revenue fell in February for the sixth consecutive month in the four largest Midwest gambling states, Indiana, Missouri, Illinois, and Michigan. Even in Las Vegas sales are down 12 percent so far this year.
On March 25, International Game Technology, the world's largest slot machine maker, said it would reduce its global workforce by 7 percent, or 350 people, citing a decrease in its North American gambling operations. "It's been broad-based jurisdictionally, and the declines have been greater than we had anticipated," IGT Chief Executive Officer Patti Hart said during a March 26 investors call. The company, which collects a share of money bet on some of its leased machines, reported an 8 percent sales decline in that business in the quarter ended in December.
Last year's increase in payroll taxes appears to be crimping the budgets of many gamblers. "Gaming can skew a little more blue-collar and middle-income, and if you look at the national economic statistics, that's a subset that remains challenged," says Joel Simkins, an analyst with Credit Suisse. "We need a much more robust economic climate for some of these markets to do better."
The irony is that it was the economic downturn that prompted several states to expand their gambling offerings as a way to increase tax revenue. Maryland voters approved the state's first casinos in a 2008 referendum. Massachusetts legislators joined them in 2011. Illinois began rolling out slot machines in bars in 2012. New York voters approved a maximum of seven resorts last year.
Financial projections have often been made with a gambler's sense of optimism. Ohio voters were told to expect more than $1.42 billion annually in gambling revenue when they approved the state's first four casinos in 2009. The take was $821 million last year.
Ohio's budget office issued a memo on March 19 warning local governments and school districts, which receive the bulk of the state's gambling tax revenue, to budget conservatively and "not be surprised" when forecasts fall short. "Competition for gambling dollars is increasing, both within and without the state, and there is evidence across the nation that overall gambling may be approaching saturation levels," budget officials said.
Hollywood Casino, a $400 million property in Columbus, Ohio, began reducing its slot machine count two months after opening in October 2012. Since then about 500 machines, or 17 percent of its total, have been taken out because of weak demand.
Ameet Patel, general manager of the property, says the softness in casino revenue that he and other operators have seen has been driven by a key demographic: women older than 50 who used to bet $50 to $75 per visit. The weak recovery has squeezed their gambling budgets, and their trips to casinos are fewer, he says. "The low end has been wiped out," he adds. Hollywood Casino's owner, Penn National Gaming, says it still expects returns of 20 percent on its new casino investments and is pursuing projects in Pennsylvania and Massachusetts.

On the Las Vegas Strip, where $6.5 billion in gambling revenue for 2013 fell short of the 2007 peak of $6.8 billion, casino operators are investing in non-gambling amenities such as nightclubs, restaurants, and showrooms. The SLS Hotel & Casino, a remodeling of the Sahara scheduled to open on Aug. 29, plans to draw only 30 percent of its revenue from gambling, says its president, Rob Oseland. That compares with 45 percent at the average Nevada casino today and 62 percent in 1984, according to UNLV's Center for Gaming Research.
Internet betting, pitched as a savior for the established casinos in Nevada, New Jersey, and Delaware that were given control of the online business in their states, has been disappointing. New Jersey's online wagering revenue was $10.3 million in February, well below the $1 billion annual volume originally projected by Governor Chris Christie's administration. On April 1 the state estimated tax revenue from Internet betting will be $12 million for the fiscal year ending in June, vs. a forecast of $160 million.
In Nevada, which limits online betting to poker, revenue was $824,000 in February. In Delaware, Internet revenue was $166,000. "It's really not doing a hell of a lot for the operators," says H. Steven Norton, a former casino executive who now consults. "Online gambling is going to hurt land-based games."
The betting squeeze is particularly severe in older markets such as New Jersey and Mississippi, which have seen both new competition and less spending by those who do come. Atlantic City, which used to bus in 14 million visitors a year from New York, Pennsylvania, and other parts of the state, brought in 2 million last year.
After Malaysian gambling giant Genting Group opened its Resorts World Casino at the Aqueduct Racetrack outside New York City in October 2011, it quickly became the nation's top-grossing slot machine facility. In the past 12 months it's taken in $793 million. "Older markets like Connecticut and Atlantic City are being flanked by new capacity closer to larger populations or just new—people want new," says Credit Suisse's Simkins. "If you open something closer to their house that has the latest and greatest slots and good parking, people are not going to the older locations."
Tunica, less than an hour's drive south of Memphis, drew visitors from across the South and Midwest after the state allowed casino gambling in 1990. Once the third-biggest U.S. gaming market, Mississippi fell to sixth place by 2012, as casino revenue in Louisiana, Indiana, and Pennsylvania climbed. Locally, the fall was sobering. Says Webster Franklin, who runs the Tunica Convention and Visitors Bureau: "When the largest casino operator in the country closes its premier property in your state, if that's not a wake-up call, I don't know what is."
— With assistance by Mark Niquette
BOTTOM LINE -
The bottom line: Today 39 states have casino gambling of some kind, up from only two in 1988. That's hurt business at older facilities.
Before it's here, it's on the Bloomberg Terminal.
LEARN MORE