What a Tigerless Masters Means for CBS
by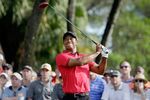 When Tiger Woods announced yesterday that his recent back surgery would keep him from playing in the Masters next week, executives at CBS must have hoped it was an April Fools' joke. This will be the first time Woods has missed the tournament in 20 years. History suggests the ratings will suffer without him. The chart below shows the Masters share of ratings on CBS for every Saturday and Sunday since 1995, the first year that Woods played on the weekend. When Woods does well, the numbers rise.


The two best ratings years, 1997 and 2001, were the first two times that Woods won the tournament. The third best, 2010, was his first year competing after his marital infidelity became a public scandal in the fall of 2009. He finished fourth that year and entered the final day four strokes off of the lead. As a rule, when Woods is in contention at the end of the first three rounds, the ratings improve.
On average, ratings across the 19-year span have increased 63 percent from round three on Saturday to the final round on Sunday. In years when Woods is within five strokes after Saturday (marked with a + on the chart), the average increase is 69 percent. When he is more than five shots out, it's 56 percent. With Woods out from the beginning this time, CBS will likely be building from a subpar Saturday. It's not good news for the network.
Yet for Augusta National Golf Club, where the tournament is held, no Woods appears to be no problem. According to ticket search engine Seatgeek, ticket prices have barely moved since Woods withdrew. Single-day badges are going for an average price of $1,069, which is within the $980 to $1,080 range for the past week. As a live event, the Masters is Tigerproof, with intense demand for 200 or so badges available on the secondary market at any given time.
Before it's here, it's on the Bloomberg Terminal.
LEARN MORE