U.K. Yields Approach Highest Versus Bunds Since 1998
Anchalee Worrachate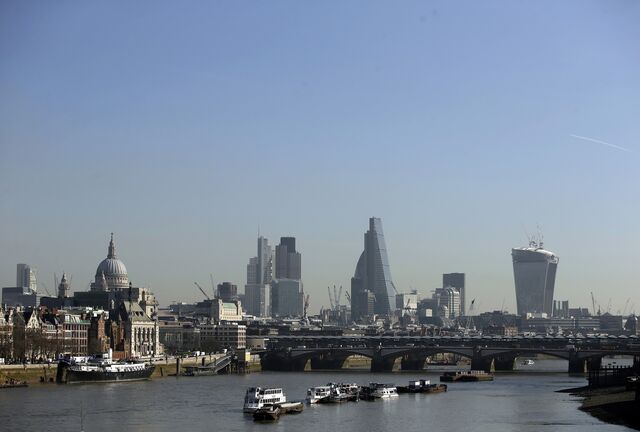 Not since Tony Blair was a new prime minister and the Spice Girls embarked on their first global tour have investors been so optimistic about the U.K. economy compared with Germany's.
Britain's 10-year yields have climbed to within two basis points of the highest relative to German bunds since September 1998 amid signs the U.K. recovery is gaining traction. The extra yield on gilts over bunds has increased in four of the past five months as data have shown house prices rose, consumer confidence improved and manufacturing expanded. At the same time, the threat of deflation in the euro area has fueled speculation the European Central Bank will cut interest rates.
"There is a big disconnect between gilts and European yields," said Anthony O'Brien, a fixed-income strategist at Morgan Stanley in London. "Gilt yields are following Treasuries' higher as the economic recovery improves. The widening differentials between the U.K. and Germany mean their yield spread is going to get wider."
The 10-year gilt yield climbed four basis points, or 0.04 percentage point, to 2.77 percent at 3:24 p.m. London time. The 2.25 percent bond due September 2023 fell 0.32, or 3.20 pounds per 1,000-pound ($1,664) face amount, to 95.695.
Similar-maturity German yields rose four basis points to 1.61 percent. The premium investors demand to hold the U.K. securities was at 116 basis points after expanding to 118 basis points on March 28, the widest level since September 1998, based on closing prices.
Blair, Schroeder
The last time the spread between the two yields was this wide, Tony Blair was into his second year as Prime Minister after winning a landslide victory in 1997 and the phrase "Cool Britannia" was being used to depict a period of renewed optimism. In Germany, Gerhard Schroeder was about to take office as Chancellor, while the euro was yet to be introduced. The British economy expanded 3.4 percent that year, while Germany's grew 0.6 percent.
Ten-year gilt yields ended September 1998 at 4.90 percent, while Germany's were at 3.90 percent.
Gilts dropped today as Nationwide Building Society said the average price of a U.K. home rose 0.4 percent from February to 180,264 pounds, about 3 percent below its 2007 peak. Values in London were 20 percent above their previous record at an average of 362,699 pounds.
Surprise Index
Citigroup Inc.'s Economic Surprise Index for the U.K., which measures whether data is exceeding or falling short of market expectations, was 31.9 yesterday, up from 7.7 at the end of last year. A similar gauge for the euro region dropped to minus 4.2 from positive 6.4.
The Bank of England will raise its official bank rate by 25 basis points to 0.75 percent by the middle of next year, while the ECB will keep its benchmark at a record-low 0.25 percent, according to the median forecast of separate Bloomberg surveys.
Gilts returned 2.4 percent this year through yesterday, according to Bloomberg World Bond Indexes. German securities rose 2.5 percent and U.S. Treasuries gained 1.6 percent.
Thirty-year gilts dropped today as the Debt Management Office sold 2.5 billion pounds of the securities at an average yield of 3.528 percent, compared with 3.527 percent at the previous auction on Feb. 13. The 30-year yield climbed two basis points to 3.52 percent.
The pound advanced 0.2 percent to 82.76 pence per euro appreciating to 81.58 pence on Feb. 17, the strongest since January 2013. Sterling was little changed at $1.6637.
Sterling has strengthened 11 percent in the past year, the best performer of 10 developed-nation currencies tracked by Bloomberg Correlation-Weighted Indexes. The euro rose 8.1 percent, while the dollar weakened 0.2 percent.
Before it's here, it's on the Bloomberg Terminal.
LEARN MORE