Two Britons Charged in Deutsche Bank-Related CO2 Tax Probe
Karin Matussek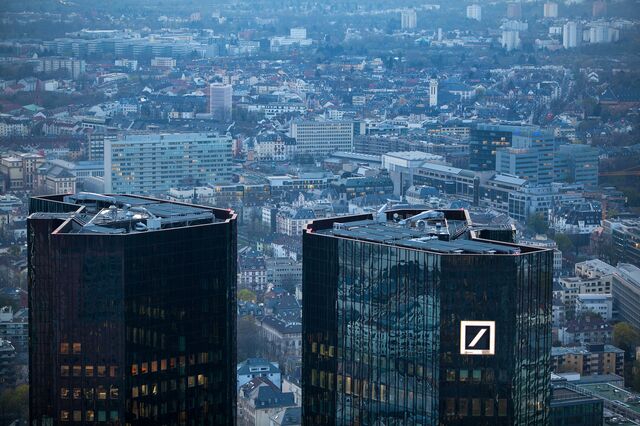 Frankfurt prosecutors charged two U.K. citizens in a tax-evasion probe that also ensnared two of the highest-ranking officials at Deutsche Bank AG.
The British pair, aged 36 and 39, were accused of being part of a gang that tricked the authorities on value-added tax refunds in carbon emission trades, prosecutors' spokesman Alexander Badle said in an e-mailed statement today. The men, who didn't work for Deutsche Bank, were arrested in the U.K. last year and were responsible for evading 31 million euros ($43 million) of taxes, according to the statement.
"The two acted as managing directors of two companies set up in Berlin and Frankfurt between 2009 and 2010," said Badle. The authorities "seized 7 million euros from the companies to make up for the tax damages."
The case is part of a wider probe in which Deutsche Bank co-Chief Executive Officer Juergen Fitschen and Chief Financial Officer Stefan Krause are also being investigated. Six men were found guilty in December 2011 of evading a total of 260 million euros in taxes on carbon emission trades while running companies. They were sentenced to prison sentences of as long as seven years and 10 months.
The men convicted in 2011 worked at small trading companies that bought certificates from suppliers overseas and resold them. One of the firms didn't pay tax on the transactions. Each sale generated VAT, which the buyer could reclaim from the tax authorities as a refund. Deutsche Bank bought the allowances.
The probe into Fitschen and Krause, who deny any wrongdoing, concerns how Deutsche Bank declared its taxes over the issue. Prosecutors are investigating about 25 people at the Frankfurt-based company in the case. Some of the lenders' employees are being investigated for purchasing the emissions allowances. The lender was raided in December 2012.
Before it's here, it's on the Bloomberg Terminal.
LEARN MORE