Tiny Green New Yorkers Are Popping Up All Over. Don't Get Too Excited
by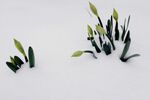 April in New York. Why does it seem so inviting?
Don't be fooled, urban gardener. Buds are sprouting, plants are growing, daffodils and crocuses are jubilating in the park, and they're all getting ready to up and die on you with one last cold snap.
"If you jump in on the first warm day and put a bunch of plants in a window box, you could easily lose them if it freezes again," says Marni Majorelle, the owner of Alive Structures , a landscape firm based in Brooklyn. "There's just not a lot of plants available for early spring. Your corner plant store will always have lots of things, but they're not necessarily perennials that can live in this climate."

But there are daffodils growing right now in Central Park! you say, as visions of an urban oasis fade back to your partial view of an alley. "Those were planted in the fall," says Majorelle. "If you were to plant them right now, they'd look beautiful for the next four days and then stop blooming."
Your window boxes needn't be a wasteland through mid-April, though. "Right now you can put out cold-season annuals," says Amber Freda, the owner of an urban-landscaping company. "Like pansies or violas."
True, no one hears "pansies" and thinks Eden , but they're better than nothing, for now. When spring weather does come along, if it ever does, you can be prepared. "First," says Freda, "if you're using a container, you always want to use potting soil, never gardening soil," which is "too heavy and too moist" and can make plants rot. Potting soil is lighter and more porous, she says.
Majorelle urges urban gardeners to consider a natural approach. "People usually plant annuals in window boxes, which I find pretty boring and predictable," she says. Instead, she recommends planting wildflowers, for "a little meadow in an urban environment."
For the flowers themselves, she suggests purple cone flowers (Echinacea), butterfly weed , wine cups and even "some small native grasses," which she says "are just so lovely. They blow in the wind and they make you feel like you're in nature."
Like the High Line. With fewer people.
Before it's here, it's on the Bloomberg Terminal.
LEARN MORE