Biggest Threat to Climate Is Cars: Live Coverage of #BNEF2014
by and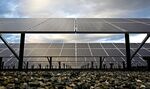 The great renewables race is on. Check here for live updates of the Future of Energy Summit by Bloomberg New Energy Finance, April 7-9 in NYC. Follow on Twitter with #BNEF2014 .
4.09.14 | TOM RANDALL
Energy Investors Are an Uncertain Kitten
We're at a turning point, where renewables are becoming the cheapest form of energy even without finicky government subsidies, says BNEF's Michael Liebreich. Last year the kitten hesitated. Soon it will pounce.
Read more...
4.09.14 | STEFAN NICOLA
Cars Become Biggest Driver of Greenhouse-Gas Increases
The greatest emerging threat to the global climate may rest in the side pocket of your trousers -- or wherever you keep the car keys.
Emissions from transportation may rise at the fastest rate of all major sources through 2050, the United Nations will say in a report due April 13. Heat-trapping gases from vehicles may surge 71 percent from 2010 levels, mainly from emerging economies, according to a leaked draft.
Read more...
4.08.14 | WILL WADE
Grandfather Utilities Threatened by Spreading Renewable
Technology is catching up with Thomas Edison's electricity industry, eating away at the utility business model that hasn't changed much in a century. Clean energy installation will almost triple to 290 gigawatts in 2030, according to BNEF. It's not your grandfather's energy industry.
Read more...
4.08.14 | CHRISTOPHER MARTIN
Plug Plots Path From Forklifts to Trucks for Fuel Cells
Plug Power Inc., the best performer on the Nasdaq, is looking for new markets where its fuel cells can take on fossil fuels. First on the list: refrigerated delivery trucks and airport support vehicles. Forklifts were never the ultimate goal.
Read more...
4.08.14 | JUSTIN DOOM
Crowdfunding Seen Topping $5 Billion for Rooftop Solar
Crowdfunding may supply the rooftop solar projects with $5 billion of investment within five years, more than 50 times the amount raised to date.
Read more...
4.07.14 | ERIC ROSTON
Where Clean Energy Dollars Went in 2013

The clean energy sector is bouncing back from a couple of years it'd rather forget, dominated by huge job losses, bankruptcies and political controversy in the U.S.
Clean energy investment has fallen about 22 percent since its 2011 peak, to $314 billion in 2013, according to Bloomberg New Energy Finance data. But not all technologies are equal.
Read more...
4.07.14 | TOM RANDALL
Energy Taxes Are a 'Rotting Carcass' That Keeps Smelling Worse

It's tax time -- the time of the year when every working American is reminded of the tortures of the U.S. tax code. The head of the U.S. Senate Finance Committee sums it up best:
"The U.S. tax code is a mess -- a rotting carcass that seems to smell worse each year," Ron Wyden, a Democrat from Oregon, said at the Bloomberg New Energy Finance Summit in New York today.
Read more...
04.07.14 | CHRISTOPHER MARTIN
Fuel Cells Have Been a Long Time Coming. And They're Still Coming
General Electric Chief Executive Officer Jeffrey Immelt said his company has been developing fuel cell power for 30-years. It's actually been more than 50. General Electric started designing fuel cells for spaceflight in 1962.
Fuel cell technology is on a slow boil. The idea itself goes back to the middle of the 19th century, and only in the last couple of years have technology and commerce begun to each other in a meaningful way.
Read more...
4.07.14 | TOM RANDALL
U.S. Wind Power Blows New Records. Again. And Again.

Wind is breaking records. Again. These two charts show why wind's rising prominence in the U.S. energy mix isn't going to end any time soon.
Read more...
4.07.14 | ELIZABETH GOULD
Solar + Mobile = Gold, for Africa Startup M-Kopa Mobile phones have taken Africa by storm -- with 70 percent of Africans now owning at least one. But only a third have electricity, so most Africans can't actually charge their phones, not to mention have light after dark.

Enter M-Kopa, a startup combining solar panels with mobile money to bring power where the electric grid doesn't reach. It's one of this year's New Energy Pioneers .
Watch more...
4.07.14 | CHRISTOPHER MARTIN
Shale boom leaves wind companies asking: Where's our subsidy?

The $14 billion U.S. wind industry is reeling from a double blow -- cheap natural gas unleashed by the hydraulic fracturing revolution and the death last year of federal subsidies that made wind the most competitive of all renewable energy sources in the U.S. Can the industry survive without restoration of subsidies, worth $23 per megawatt hour to turbine owners?
Read more...
4.07.14 | TOM RANDALL
These guys get paid to play the claw all day

Remember the arcade Claw game? Well, that's what these guys get to do all day. With crane-sized claws. And instead of taking home the "prize," they get to set it on fire.
Read more...
4.02.14 | ERIC ROSTON
Bloomberg 360: America's energy revolution
There was so much to cover, it couldn't be done in just one sitting. Get ready for the Future of Energy with two videos from the energy roundtable.
Part 1: The New Boom
Part 2: Climate Reality
4.01.14 | EHREN GOOSSENS and BENJAMIN HAAS
Mystery property tycoon makes $533 million bet on solar


An enigmatic real-estate tycoon has spent the past year accumulating stakes in failing solar companies, piecing together what may become the biggest collection of photovoltaic factories in the world.
Read More...

4.24.13 TOM RANDALL
Flashback to 2013: Peak fossil fuels is closer than you think

What we covered at last year's Summit: Every time an iPhone is charged or an episode of Mad Men plays on a TV, puffs of vaporized carbon join the atmosphere. And every year the world demands more. That era may be nearing an end, as the world approaches "peak fossil fuels."
Read More...
4.01.14 | ERIC ROSTON
What climate change means in dollars and cents
How badly will global warming hurt the world economy? The answer in yesterday's new report by the Intergovernmental Panel on Climate Change is clear. Depending on the assumptions, er… uh, carry the four… add the pure rate of time preference… hmmmm, we can't say without caveats.
Read More...
3.31.14 | TOM RANDALL
All your M&Ms will be green by 2040: The Mars mission

Mars Inc., which sells about $30 billion of deliciousness a year, is going for 100 percent renewables. But don't worry: Your green M&Ms will cost not a penny more than the coal-colored ones.
Read More...
3.31.14 | TOM RANDALL
Exxon believes in climate change. But does not fear it.
DOWNSIDE: "The risk of climate change is clear and the risk warrants action," said William Colton, Exxon Mobil's vice president of corporate strategic planning, as Exxon became the first oil and gas company to release its plan for living with climate change.

UPSIDE: The heart of Exxon's plan? Find more oil. "All of Exxon Mobil's current hydrocarbon reserves will be needed, along with substantial future industry investments, to address global energy needs."
Visit www.bloomberg.com/sustainability for the latest from Bloomberg News about energy, natural resources and global business.
Before it's here, it's on the Bloomberg Terminal.
LEARN MORE