Taiwan Students See End to Occupation With China Oversight Bill
Tim Culpan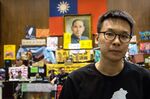 Students who've occupied Taiwan's legislature for two weeks may vacate the chamber if the government agrees to consider their version of a bill giving oversight on deals with China before a review of a pending pact on service industries.
"If our most important key demands are met, namely the oversight bill being established before a review, all our other demands are open for discussion," student leader Lin Fei-fan said in an interview today inside the chamber.
Hundreds of students stormed the chamber and surrounding building late on March 18 to protest what they say is an effort by President Ma Ying-jeou's government to force through the services trade deal with China without proper review. A plan by the cabinet to draft an oversight bill may not satisfy the students as Ma continues to pressure ruling party legislators to block a version acceptable to them, Lin said.
"The cabinet can put forth their own version, but our version, drafted by civic groups and blocked in the procedural committee 108 times, must also be allowed to proceed," Lin said. "If they meet that demand, then we can discuss with the government if and when we will leave the chamber."
An existing oversight law has languished in the legislature for almost six years, blocked by Ma who's using party discipline to prevent its progress, Lin said.
Withdrawal of Pact
Earlier demands to end the protest included a withdrawal of the services trade pact, an oversight law on all deals with China, and Ma meeting with students for negotiations.
Ma first responded to the students' initial demands on March 23, five days after the occupation, in a press conference where he reiterated the importance of passing the pact for "Taiwan's economic future." He refused demands for an oversight bill, saying existing laws on cross-strait relations are sufficient.
Taiwan's cabinet plans to examine an oversight bill drafted by its Mainland Affairs Council as early as tomorrow, it said in a statement March 31, without providing details of that draft.
At a rally in support of the protests on March 30, Lin told a crowd in Taipei, which the students estimated at more than 300,000 but police put at 116,000, that they still had four demands: review and renegotiate the trade services pact in the cabinet; implement an oversight bill; pass that oversight mechanism before the services deal is reviewed; and hold a citizens' constitutional assembly.
"If you compare our demand for a renegotiation and our demand for an oversight law, then the oversight law is more important because if there's no oversight law then even after renegotiation of the services pact, there'd be no way for us to supervise the outcome," Lin said.
Before it's here, it's on the Bloomberg Terminal.
LEARN MORE