Jones Soda Tries to Recapture Its Long-Lost Sales Fizz
By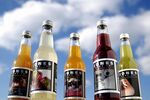 The most encouraging news from fancy soda company Jones Soda lately is that it's not losing as much money as it had been. Not from selling more beverages, unfortunately, but from cutting costs, which helped shrink Jones's net losses to $1.9 million last year from $2.9 million in 2012.
It's all part of the company's turnaround plan. "We're getting small to get strong again," says Jennifer Cue, the chief executive since mid-2012 and the fourth person in that role since 2008. It's a difficult time to be in the soda business in general—U.S. sales fell 3 percent last year—and the history of Jones in particular reads like a case study of rapid growth gone wrong.
Jones Soda launched in Canada in 1987 before relocating to Seattle and building itself into a promising beverage company by the mid-2000s. Gourmet sodas were hot, and the company's revenue grew 16 percent in 2006. Jones's designer bottles could be found at Target, Sam's Club, and Wal-Mart, as well as Starbucks, Barnes & Noble, and Panera.
Seeing no barriers, the company made an ill-fated decision: to pursue the canned soda business. This pitted the upmarket brand against far bigger rivals such as Coca-Cola and Pepsi. Jones was a premium soda, and a lot of the brand's value was wrapped up in its twee packaging. Its glass bottles used artsy labels made from photos sent in by customers, recalls Cue, who worked at Jones from 1995 to 2006 and then returned to the troubled company six years later as CEO.
The cans, launched in 2004 and expanded in 2007, did not have the same eye-catching labels. Jones ended up paying for more shelf space at retailers to sell the new cans. Many customers did not recognize them, and those who did traded down for the less-expensive product. "We were paying more for shelf space for a product line that was providing us less margin while at the same time cannibalizing our bottle sales," Cue explains. Sales plummeted and have been down for six consecutive years, and a redesign of the cans in 2011 hasn't helped.

Rather than attempt a national comeback, Cue is focusing the company's energies in the West, Midwest, and Canada, with plans to develop lower-calorie options. Jones will also offer different flavors in bottles and cans, in a bid to stop cannibalizing bottle sales.
Fees to get on convenience-store shelves are generally too high, Cue says, so the company is focused instead on getting the product into independent stores again. "Our consumer tends to buy Jones at the independent convenience store, so this is what we're attempting to recoup," Cue says. Her sales team is also trying to get restaurants to think beyond Coke and Pepsi, and start the slow process of rebuilding Jones Soda one retailer at a time.
Before it's here, it's on the Bloomberg Terminal.
LEARN MORE