Brazil Raises Key Rate for Ninth Straight Meeting to 11%
Matthew Malinowski and Raymond Colitt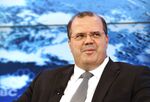 Brazil signaled that the world's longest rate tightening cycle might be coming to an end and raised borrowing costs for a ninth straight meeting.
The bank's board, led by its President Alexandre Tombini, today voted unanimously to raise the Selic rate to 11 percent from 10.75 percent, as forecast by all 57 economists surveyed by Bloomberg. Policy makers have raised borrowing costs by 375 basis points, or 3.75 percentage points, in less than a year.
The bank at its last meeting in February signaled that tightening might soon end by halving the pace of rate increases. Brazil in the last year has increased borrowing costs more times than any other central bank worldwide, with the total increase in borrowing costs trailing only Turkey among major economies. Policy makers' efforts have also been helped by the second-biggest currency gain among emerging markets since January.
"It's signaling it wants to stop. The game plan is to stop" at its next meeting in May, Alberto Ramos, the chief Latin American economist at Goldman Sachs Group Inc., said in a telephone interview from New York. "It's going to be very data dependent. If data doesn't surprise negatively, they hold, they stop."
Policy makers in their statement today removed language used in previous statements that had signaled the probability of additional rate increases.
Swap rates on the contract due in July 2014, the most traded in Sao Paulo today, rose two basis points, or 0.02 percentage point, to 10.81 percent. The real weakened 0.3 percent to 2.2689 per U.S. dollar.
Clear Concerns
Brazil has the highest borrowing costs among major rate-setting nations in Latin America, according to data compiled by Bloomberg.
The effects of monetary policy on inflation are cumulative and appear with delay, Tombini told a Senate hearing March 18. The central bank's director for economic policy, Carlos Hamilton, repeated that message nine days later, and added that prices will react to monetary policy.
Annual inflation through mid-March accelerated to 5.9 percent from 5.65 percent a month earlier as food and beverage prices jumped 1.11 percent on the month. Consumer prices won't slow to the target range's 4.5 percent midpoint for at least another 24 months, according to the central bank's quarterly inflation report released March 27.
Food, Services
Annual inflation will quicken to 6.2 percent this year, according to central bank estimates in its quarterly report that were based on assumptions policy makers would raise the key rate to 11 percent. The consumer price forecast compares with a 5.6 percent estimate in December.
Central bankers also expect administered prices to rise 5 percent this year, compared to their previous forecast of 4.5 percent.
"That report made the central bank's inflation concerns clear," Newton Rosa, chief economist at Sul America Investimentos, said by phone before today's decision. "You have the food price shock, and the report mentions misalignment due to repressed administered prices. Monetary policy has to prevent those pressures from spreading."
Standard & Poor's on March 24 downgraded Brazil one step to BBB-, its lowest investment-grade rating. Efforts to fuel growth through increased spending and tame prices through higher interest rates have damaged fiscal accounts, S&P said.
Bank Credibility
Cost-of-living expectations based on the gap in yields between inflation-linked government bonds and fixed-rate debt due in 2015 have increased 12 basis points to 6.57 percent since the central bank's Feb. 26 monetary policy meeting.
Economists surveyed weekly by the central bank have increased their 2014 inflation expectations to 6.3 percent from 5.68 percent a year ago, shortly before policy makers started tightening. Those analysts have also cut their 2014 growth forecasts to 1.69 percent from 3.5 percent during the same period.
Before it's here, it's on the Bloomberg Terminal.
LEARN MORE