Atlanta's Still the World's Busiest Airport—but Maybe Not for Long
By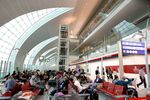 For the 16th consecutive year, Atlanta's airport retained its title as world's busiest in 2013—but Emirates Airlines' frenzied growth at its Dubai hub could eventually supplant the U.S. as home to the airport with the most passengers annually.
Dubai International Airport gained 15.2 percent more passengers last year, for a total of 66.4 million people. The airline has worked to make its Middle East hub a more attractive connection point than Europe for travelers from Asia going to the West. It has also become one of the primary carriers connecting India and North America, given the Dubai hub's geographic location and Emirates' highly rated on-board service.
Emirates' enormous growth was second only to the 19.1 percent advance in Kuala Lumpur, where two budget upstarts are battling the incumbent Malaysia Airlines with an enormous schedule of new flights and cheap fares. Dubai's passenger count was only about 236,000 passengers behind Los Angeles International, the world's sixth-busiest airport, according to the annual figures compiled by Airports Council International. Atlanta had 94.4 million last year, down 1.1 percent.
Among the world's 10 busiest airports, Atlanta was the only one to register a decline last year, because of flight reductions by AirTran Airways, which is being integrated into Southwest's network. Atlanta was AirTran's largest hub before its sale. Charlotte, the largest hub for the legacy US Airways portion of American Airlines, exhibited the largest growth among U.S. airports listed in the world's top 30, at 5.4 percent and 43.5 million passengers.
Beijing Capital International Airport was the second-busiest, with 83.7 million passengers last year. Its growth could help it topple Atlanta's Hartsfield-Jackson International as World's Busiest Airport, although the government is constructing a second major international airport in Beijing's southern suburbs to open in 2018 to help ease air traffic congestion. That new airport, as well as several others China is building to handle travel growth, could prevent Beijing from surpassing Atlanta's traffic.

Atlanta brags that its airport is within a two-hour flight of 80 percent of the U.S. population and 119 of the largest 150 metro areas. The airport and local governments launched a campaign last week to make Hartsfield-Jackson Atlanta International Airport and the surrounding area an "aerotropolis" aimed at luring new businesses and more cargo. Atlanta did not crack the top 30 airports for cargo traffic in 2013. Hong Kong dominates that category.