Arizona Law on Drug-Induced Abortions Temporarily Halted
Edvard Pettersson and Karen Gullo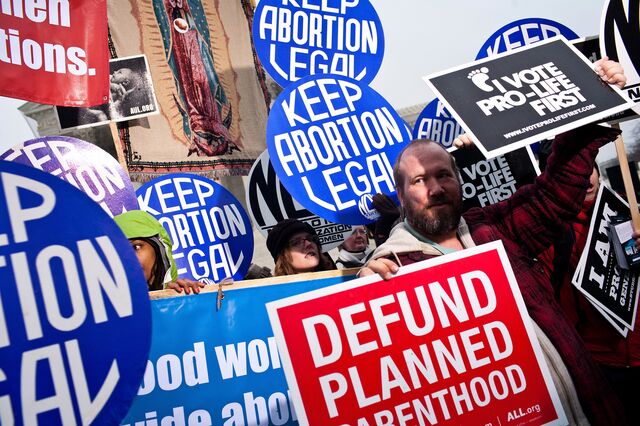 Arizona was temporarily blocked from enforcing a statute limiting access to drug-induced abortions, part of an overhaul of state laws that opponents called the most extreme in the nation.
The U.S. Court of Appeals in San Francisco put on hold the regulation, which would prohibit medication abortions after the seventh week of pregnancy, while it considers a request by Planned Parenthood of Arizona to block enforcement for the duration of its appeal of a Tucson judge's order letting the law take effect.
The measure is one of more than 200 abortion restrictions passed nationwide since a Republican-led push in state legislatures began in 2011. More state abortion restrictions were passed during that time than in the previous decade, according to a Jan. 2 report by the Guttmacher Institute, a reproductive-rights advocacy organization.
"Without emergency relief from this court, beginning today, Arizona women have been turned away for scheduled medical appointments, which will result in some losing their access to abortion altogether," Planned Parenthood said in its request with the appellate court yesterday.
'Safe Alternative'
U.S. District Judge David Bury in Tucson on March 31 denied a request by Planned Parenthood to halt implementation of the law until its constitutionality has been resolved. The law, while allowing surgical abortions, prohibits previously allowed medicinal abortions, including the use of the drug RU-486, in the eighth and ninth week of pregnancy.
"Given the ready availability of a safe alternative method of abortion," it will be difficult for Planned Parenthood to show that Arizona's law "is a substantial obstacle to a woman's right to obtain a first trimester abortion in Arizona," Bury said. Other portions of the the 2012 Arizona law have been struck down by the U.S. Supreme Court.
The case is Planned Parenthood Arizona Inc. v. Humble, 14-15624, U.S. Court of Appeal, Ninth Circuit (San Francisco.)
Before it's here, it's on the Bloomberg Terminal.
LEARN MORE