pursuits
Amazon's Fire TV Piles Into the Living Room
Fire TV tries to muscle in on Apple, Google, Roku—and cable
By and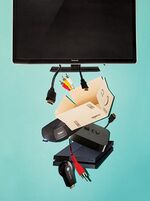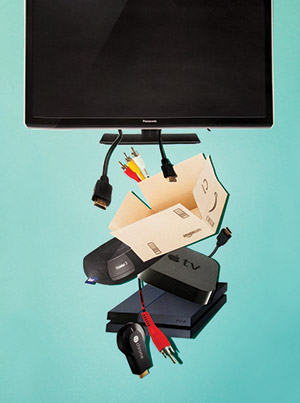 Technology companies have distracted us with phones, tablets, social networks, and dating apps. Yet one number continues to confound and infatuate them: five. That's the number of hours, according to A.C. Nielsen, that the average American adult spends watching a television set each day.
In their pursuit of controlling our every waking hour, tech giants have long tried to commandeer the TV experience, and they have the bruises to show for it. Google and Apple, along with startup Roku, have managed to establish modestly popular set-top boxes that stream some movies and live shows to televisions. Sony and Microsoft have put forth new gaming consoles, the PlayStation 4 and Xbox One. So far, none of these big names have managed to unseat longtime TV kingpins such as Comcast or DirecTV. Most people still cling to cable and satellite boxes and the attendant large monthly bills.
Now a new contestant has joined the battle for the living room. At a New York press conference on April 2, e-commerce giant Amazon.com unveiled Amazon Fire TV, a small, boxy device designed to stream the company's catalog of free and paid shows and movies into the living room and let users play online video games on their large-screen TVs. This is an ambitious frontal assault on the few businesses that can afford to outspend the retail giant, but for Amazon the potential rewards are uniquely obvious. "Everyone in technology wants to keep you in their ecosystem," says Richard Greenfield, an analyst at BTIG Research. "Once you are in their ecosystem, they can sell you lots of stuff. And no one wants to sell you more than Amazon."
Although the company's announcement has been widely expected since early last year, few of the specifics were known before Wednesday's announcement. Fire TV will give owners of the device access to apps such as Netflix, Hulu, and Major League Baseball, in addition to Amazon services like its Instant Video store and catalog of free TV shows and movies for members of its Prime two-day shipping service. Amazon says it can predict what users may want to watch; a feature called ASAP queues programming up on the device so they can start viewing instantly. A thin, angular remote control will let users search for shows with voice commands. Amazon says it will inform owners which service offers the cheapest price on a film. The device costs $99 and is selling at the company's website.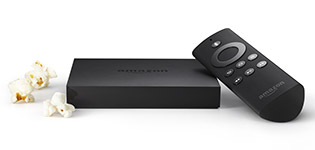 One feature that distinguishes Fire TV from at least some competitors' offerings is its ability to bring casual games to televisions. Owners can play games with either the remote control or Amazon's Kindle Fire tablet. For customers who prefer a more traditional video-game experience, Amazon said it would separately sell a traditional game controller, manufactured by the San Diego-based Mad Catz Interactive, for $40. "Millions of people have game consoles, of course, and they love them," says Pete Larsen, an Amazon vice president. "Many, many millions more don't have consoles, and they don't have them because they can't afford them or they don't want to pay for them. They would love to play games on TV."
There are far fewer games in Amazon's app catalog than in Apple's or Google's. Although Fire TV owners will find King.com's ingenious Candy Crush Saga in Amazon's Appstore, they won't find such popular time-wasters as the mobile shooting game Bioshock, the second-most popular game on the Apple App Store. Amazon hopes to rectify this imbalance by making its own games like combat game Sev Zero, which will make its debut on Fire TV. In February, the company acquired Double Helix Games, an Irvine (Calif.)-based game maker, and it has also been busy hiring developers in Seattle. "Everyone realizes that the gateway drug to the television is games," says Julie Uhrman, chief executive officer of Ouya, which makes a competing, Android-powered gaming console for TVs.
At least a few of Amazon's living-room rivals have been getting some traction. Roku leads the field with a device placed in 37 percent of households that have a streaming media system, compared with 24 percent for Apple TV, according to researcher Parks Associates. (Roku is considering an initial public offering later this year.) Last summer, Google introduced Chromecast, a thumb drive-size Android-powered device that plugs into a TV, connects to a wireless network, and can stream movies or music from the Internet or a nearby phone or computer. The device has been well received, particularly compared to the clunky Google TV set-top boxes that preceded it; it costs a hard-to-beat $35.
Amazon has been working on Fire TV for more than two years, according to multiple people who worked on the project at its Silicon Valley Lab126 subsidiary and who weren't authorized to discuss it publicly. The project, code-named Bueller after the iconic Matthew Broderick movie character, has been plagued by delays, partly related to shifting internal priorities and a rapidly evolving market. Amazon first organized the project around video and processing chips made by Texas Instruments. In late 2012, the Texas company canceled that line of products and laid off thousands of engineers who were working on it. Amazon then shifted to processors made by San Diego-based Qualcomm.
Amazon brings some clear advantages into the fight for the family TV. It can subsidize the cost of the device and its programming by showing viewers advertisements and giving them targeted opportunities to buy things in its vast retail store. The company is also heavily investing in creating original content, which it can offer to owners of Fire TV, and it finally seems to have some hits on its hands. Among the batch of new pilots from its Amazon Studios division, the shows Transparent, about a Los Angeles family with sexual identity issues, and Mozart in the Jungle, about cutthroat life in a New York orchestra, were well-reviewed and picked up for series. Amazon said audience response merited a second season for Alpha House, its Garry Trudeau-penned political comedy starring John Goodman.
Like other tech giants pushing set-top boxes and dongles, Amazon is a long way from displacing the large cable companies. Apple is reportedly in talks with cable giant Comcast to give its subscribers an Apple TV and to get preferential treatment for its video on Comcast's network, the Wall Street Journal reported last month. Those talks are in early stages and may amount to nothing.
Customers have shown little interest in giving up their cable and satellite services. Programmers such as Walt Disney find it hugely profitable to bundle their popular and unpopular networks together so cable companies and customers have to buy them all. Success for Fire TV could make headway toward loosening that grip.
Before it's here, it's on the Bloomberg Terminal.
LEARN MORE