Woes at Patton Boggs Worsen as Chevron Gets Clearance to Press Fraud Claims
Paul M. Barrett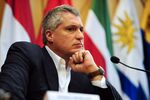 Patton Boggs has had a bad year. Things are getting worse.
The blue-chip Washington law-and-lobbying firm has seen revenue dry up and prominent partners defect—ordinarily, signs of a partnership headed down the tubes. In desperation, the firm is negotiating a potential merger with a larger firm, Cleveland-based Squire Sanders. Should the combination go through, Patton Boggs would probably suffer further partner departures and a diminution of its once-distinctive brand as an influence-peddling powerhouse. The merger could be severely complicated, though, by a New York federal judge's decision on March 31 to allow Chevron to move ahead with fraud allegations against Patton Boggs.
The unusual dispute between the third-largest U.S. corporation and one of the best known law firms in Washington—the sort of firm that normally would represent Chevron and, in fact, has represented Chevron in years past—stems from one of the most vicious and persistent litigation wars in recent memory: the fight over oil pollution in Ecuador. In an uncharacteristic engagement, Patton Boggs joined forces in 2010 with a controversial New York plaintiffs' attorney, Steven Donziger, who was lead attorney in a massive contamination suit against Chevron.
In 2011, Donziger's clients—thousands of poor residents of the rain forest in northeastern Ecuador—won a $19 billion judgment against the U.S. oil company in an Ecuadorian trial court. Refusing to pay up, Chevron turned the tables on Donziger by filing a civil racketeering suit against him in federal court in New York. On March 4, U.S. District Judge Lewis Kaplan found in Chevron's favor and branded Donziger a racketeer whose suit against the oil company, he said, evolved into an extortion scheme involving bribery, coercion, and fabricated evidence.
On Monday, Kaplan said Chevron could move ahead with related claims that Patton Boggs helped Donziger cover up the corrupt nature of his campaign against the oil company. "Patton Boggs either knew in advance of the ghostwriting of the [Ecuadorian trial court] judgment against Chevron or must have become quickly aware of it once Chevron began to make the evidence known, and yet Patton Boggs continued to further the fraudulent scheme," the oil company has alleged. Chevron also has accused Patton Boggs of lying to Judge Kaplan during various proceedings in New York—an allegation that impugns the law firm's integrity before the bar in the U.S.
Patton Boggs has repeatedly denied any wrongdoing and accused Chevron and its main outside law firm, Gibson, Dunn & Crutcher, of engaging in a vindictive smear campaign designed to distract from the oil company's liability in Ecuador. Donziger has likewise denied any wrongdoing and made similar accusations against Chevron and Gibson Dunn. Donziger has vowed to appeal Kaplan's ruling that he violated U.S. civil racketeering law.
Kaplan's decision clearing Chevron to press its claims against Patton Boggs presents an immediate threat to Patton Boggs. The oil company has declared its intention to go after anyone and everyone associated with Donziger. It has sued one of his main financiers, an online gambling tycoon in Gibraltar. And it has asked Kaplan to order that Donziger pay $32 million to Chevron to cover part of its legal expenses.
The prospect of a protracted and potentially expensive Chevron fraud suit tried before Kaplan—a judge who views Donziger and his allies as deeply corrupt—could make Patton Boggs a much less attractive merger partner for Squire Sanders or any other potential suitor. Settling with Chevron, on the other hand, would constitute a humbling concession from Patton Boggs that its involvement in the Ecuador case was a costly mistake.
At this point, Patton Boggs doesn't appear to have many attractive options.
Before it's here, it's on the Bloomberg Terminal.
LEARN MORE