Why Priceline Needed a New Name
by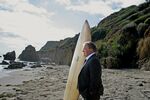 The exhortation to "name your own price" for flights and hotels isn't exactly a retired relic of Priceline's early days, but that sales model sure isn't where the company is finding today's ample growth opportunities. The corporate parent has changed its name from priceline.com—yes, the company had insisted on the lower-case "p"—to The Priceline Group, a new moniker that better reflects the reality of five disparate brands focused on various aspects of travel.
The eponymous website, which dates to the company's 1998 founding, has been joined by Agoda.com, Booking.com, Rentalcars.com, and Kayak, the meta-search website acquired for $1.8 billion in late 2012. The name change doesn't affect any of the consumer branding at those businesses.
Priceline's financial successes—the stock has risen 4600 percent in the past decade—have come largely from its torrid growth abroad with booking sites in Asia and Europe that connect millions of travelers with lodging and airfares. The company acquired the Amsterdam-based hotel-focused site, booking.com, in 2005 and followed two years later with Agoda.com, a travel-booking site in Bangkok that does business in 38 languages. Booking.com is available in 42 languages and has enjoyed enormous growth in mobile, which rose to about $8 billion in transaction value from $1 billion in 2011.
With that kind of growth, the next time Priceline Group contemplates a name change, Booking.com may be the leading contender.
Before it's here, it's on the Bloomberg Terminal.
LEARN MORE