Three Things GM's Mary Barra Didn't Say in Her Prepared Testimony
by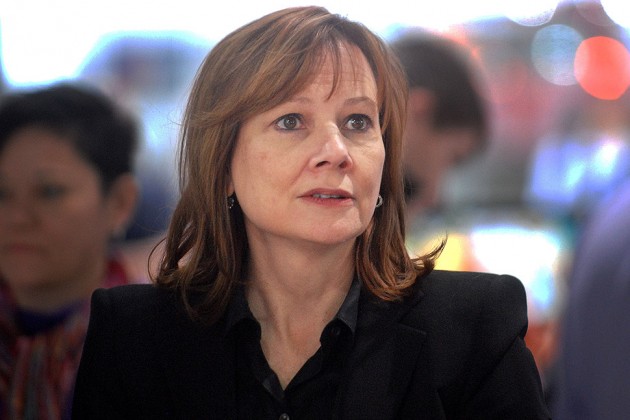 General Motors Chief Executive Officer Mary Barra took the high road on her way to Washington. As she faces what is sure to be lengthy and trying testimony in Congress, the new car chief crafted remarks (PDF) that proffer humility, guilt, and a desire to be fully transparent. "Whatever mistakes were made in the past, we will not shirk from our responsibilities now and in the future," she says in her initial statement, released ahead of her appearance in the House of Representatives on Tuesday.
Barra is applying the basics of crisis management. At this point, any attempt to dissemble, point fingers, or hastily erect legal blockades would  worsen the fallout from 2.6 million recalled vehicles and 13 deaths. Still, Barra left a few, very relevant points out of her two-page opening remarks this morning. It will be interesting to see if these topics come up in questions from lawmakers.
1. GM was a mess. When faulty cars were coming off assembly lines, GM was well on its way to its 2009 bankruptcy filing. From 2005 through 2007, the company posted $51 billion in losses. It was spending $11 for every $10 it took in. GM's workforce in that period shrank 21 percent, to 266,000. This doesn't excuse the lapse in oversight or the continued failure to raise red flags after a series of deadly crashes, but it offers valuable context for anyone trying to decide whether GM's current management team and processes are rigorous enough.
2. The automaker's supplier was an even bigger mess. In 2005, when GM was putting faulty ignition switches into hundreds of thousands of small sedans, Delphi Automotive, the maker of those parts, was a wreck. Facing an accounting inquiry by the Securities and Exchange Commission, Delphi filed for bankruptcy protection in 2005. It's chairman and chief financial officer resigned, and the company shut down 24 plants in the U.S. Again, this doesn't justify any lapse, but it adds valuable context. Delphi's best employees were probably jumping ship at the time; others were facing layoffs.
3. The technological road ahead for GM. About 40 percent of every GM car comprises computers and electronics. The ignition switch still isn't some kind of cyber magic that starts a car by tapping into an online nerve center on the outskirts of Detroit. But much of the infrastructure in a contemporary vehicle does just that, and it has the ability to flag GM engineers when something odd happens—as when, say, a car randomly shuts off while cruising down a highway. This summer, all of GM's cars will come equipped with 4G technology, which means those warnings will come more quickly and more reliably than ever. It's the first major U.S. carmaker to promise that capability, fleet-wide.
The recall has already become a huge distraction and an expensive mess. Associated legal fees and settlements will drag on for years. Little of that will matter if customers believe the crisis was born in a different company. If they see "old GM" as an error-prone clunker, buyers will be less likely to steer clear of the company's current cars or equate the celebrated 2014 Chevy Impala with a 2006 Chevy Cobalt.
In other words, GM's latest sales report—a tally of March transactions—may be as telling and critical for the future of the company as the show on Capitol Hill. The company was supposed to release those sales figures this morning, but it delayed the announcement until later today. The inauspicious culprit blamed for the delay? A computer glitch.
Before it's here, it's on the Bloomberg Terminal.
LEARN MORE