NRA Does Victory Dance Over the Woes of a California Gun Foe
Paul M. Barrett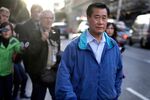 It's tough to blame the National Rifle Association for gloating over the humiliation of Leland Yee. A Democratic state senator in California, Yee has long been a darling of gun-control proponents and a foe of the gun lobby. Now he stands accused of selling his political connections in a gun-trafficking scheme. Oh, the irony.
 
The San Jose Mercury News elaborates:
"Known for navigating the state Capitol's back rooms and San Francisco's complicated political landscape, state Sen. Leland Yee now is accused of consorting with notorious felons, accepting money for his cash-strapped political campaigns in exchange for favors and promising undercover FBI agents he could deliver connections to international gun runners.

"In a stunning development that almost certainly torpedoes Yee's quest for statewide office, the San Francisco Democrat wound up glum and disoriented in a federal courtroom [on March 26]. The politician who introduced anti-gun-violence legislation is now charged with trafficking in firearms and public corruption in an FBI undercover operation that could land him in prison for years."
On its website, the NRA strained to veil its pleasure at Yee's predicament:
"Being good Americans, we take the position that anyone who is arrested and charged with multiple crimes is innocent until proven guilty. That's more than California state senator Leland Yee has done for gun owners in the past. In August 2012, Yee said, 'No one will convince me it's anything other than a joke to say that having multiple clips and semi-automatic weapons that can shoot 100 or more bullets at a time is necessary in this state or in this country, it's ridiculous.'"
Adding spice to the Yee story, as if it needed any more, is that one of his fellow defendants is Raymond "Shrimp Boy" Chow, a notorious San Francisco Chinatown gangster who served prison time for gun trafficking but more recently has been hailed by gun-control advocate U.S. Senator Dianne Feinstein (D-Calif.), among others, as having turned over a new leaf.
In happier times, the Brady Campaign, a leading gun-control group, named Yee to its Gun Violence Prevention Honor Roll. From here on out, the folks at Brady will need to do better background checks on potential political allies and their local affiliations. One tip: Be wary of anyone who pals around with a guy called Shrimp Boy.
Before it's here, it's on the Bloomberg Terminal.
LEARN MORE