Nordea Says Consolidation Inevitable as Vestjysk Struggles
Peter Levring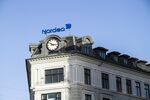 Nordea Bank AB, the Nordic region's biggest lender, may consider Danish acquisitions as regulators clamp down on under-capitalized banks and consolidation accelerates six years after a property bubble burst.
"We won't turn away anyone who would want to talk to us," Anders Jensen, chief executive officer of Nordea's Danish unit, said yesterday in an interview in Copenhagen. "I'm convinced there will be more consolidation."
Jensen spoke just hours before Vestjysk Bank A/S said the Danish Financial Supervisory Authority has given the Lemvig-based lender less than a week to come up with a plan to increase its solvency ratio. The regulator said a plan could include a merger. The Danish finance ministry owns about 81 percent of Vestjysk Bank's shares after Denmark's sixth-largest listed lender has converted government hybrid loans into equity.
Sixty-two banks have closed or been taken over in Denmark since 2008, according to a September government-commissioned report. The Business Ministry has urged the industry to consolidate in an effort to avoid insolvencies that risk triggering the nation's bail-in legislation.
Vestjysk's 10 percent solvency ratio falls short of the 10.9 percent individual requirement set by the regulator, according to yesterday's statement. The FSA said a plan to improve solvency could also include the issuing of new capital or a sale of branches.
Weakest Economy
The Finance Ministry declined to comment on which plan it supports, according an e-mailed reply to questions.
Vestjysk shares fell as much as 9.6 percent in Copenhagen today, extending yesterday's 3.8 percent decline. The stock has lost 97 percent from its July 17, 2017 peak.
Denmark has emerged as Scandinavia's weakest economy after a 2008 property crash left many households struggling to service their debts. Danes owe their creditors 321 percent of disposable incomes, a world record, according to the Organization for Economic Cooperation and Development.
"The main scenario for the Danish economy is for positive growth, albeit low," Jensen said. "If you want to develop a bank you'll need to become more efficient which is easier if you're able to benefit from large-scale operations."
Mortgage Lending
Nordea declined to comment on whether it's interested in taking over Vestjysk Bank, spokesman Stephan Ghisler-Solvang said by phone. Jyske Bank A/S. Denmark's second-largest listed lender, also declined to comment, Chief Executive Officer Anders Dam said in an e-mailed reply to questions.
Jyske Bank said Feb. 24 it agreed to buy BRFkredit A/S for about 7.4 billion kroner ($1.4 billion) to expand in mortgage lending. Spar Nord Bank A/S, Denmark's fourth-largest listed lender has "expressed its interest" to buy parts of Copenhagen-based FIH Erhvervsbank A/S, it said last month.
Nordea's recent Danish acquisitions were healthy assets from Roskilde Bank A/S and Fionia Bank A/S, after the regional lenders failed in 2008 and 2009. Spar Nord Bank purchased Sparbank A/S in 2012.
"I do imagine that there could be business models where smaller banks can survive doing plain savings and loans banking," Jensen said. "Smaller banks may be able to survive by joining forces."
Before it's here, it's on the Bloomberg Terminal.
LEARN MORE