NATO Reassures East Allies as It Questions Russian Pullback
James G. Neuger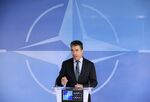 NATO said it will recommit to defending frontline states in eastern Europe that have been unsettled by the seizure of Crimea as the alliance reported no signs of a Russian troop pullback from Ukraine's borders.
Secretary General Anders Fogh Rasmussen said allied intelligence hasn't picked up evidence of Russia scaling back its "massive military buildup" and pledged to shore up the alliance's eastern defenses.
"We have already reinforced NATO's presence on the eastern borders of the alliance," Rasmussen told reporters after a meeting of North Atlantic Treaty Organization foreign ministers in Brussels today. "We directed our military commanders to develop additional measures to enhance our collective defense and deterrence against any threat of aggression to the alliance."
The immediate crisis management focused on the 40,000 Russian troops that the U.S. estimates have taken positions near the Ukrainian border, potentially poised to invade on the pretext of protecting ethnic Russian inhabitants of eastern and southern Ukraine.
'Welcome Gesture'
Rasmussen said "unfortunately" there are no signs of a withdrawal. Yesterday, German Chancellor Angela Merkel spoke to Russian President Vladimir Putin and said that he had ordered a partial withdrawal. The Interfax news service cited Russia's Defense Ministry as announcing a motorized battalion was being pulled out. The announcement is "a welcome gesture in the right direction," U.S. Secretary of State John Kerry said today in Brussels. "The question now is: is there a way to build on that."
Initial reports of a withdrawal and contacts between the top U.S. and Russian diplomats calmed markets. The ruble gave back earlier gains against the dollar after Rasmussen's comments before rising 0.1 percent from yesterday to 35.0820 per dollar at 10:35 p.m. in Moscow.
Today's meeting of NATO foreign ministers was the first since Russia rocked the postwar order by wresting Crimea, a majority Russian-speaking peninsula with historic ties to Moscow, away from Ukraine. Shrugging off U.S. and European sanctions, Putin has justified the land seizure as righting a historical wrong that split Crimea off from Russia when the Soviet Union collapsed.
Territorial Defense
The annexation of Crimea refocused the U.S.-led alliance on its Cold War-era mission of protecting its home territory, which since 1999 includes eastern European countries such as Poland. Four NATO members -- Poland, Slovakia, Hungary and Romania -- border Ukraine. Four also border Russia -- Estonia, Latvia, Lithuania and Poland.
In a statement, the foreign ministers pledged to provide "appropriate reinforcement and visible assurance of NATO's cohesion and commitment to deterrence and collective defense against any threat of aggression to the alliance."
The statement left open whether NATO will set up permanent bases near Russia's border. The alliance limited its troop presence in eastern Europe when it started expanding there, partly to avoid antagonizing Russia.
Allied military planners will now look into deploying or reinforcing land, sea and air forces in eastern Europe, upgrading training and military exercises and updating defense-contingency plans. Foreign ministers today also discussed steps to boost the readiness of the NATO Response Force, made up of 13,000 land, air, sea and special-operations troops available on short notice.
Eastern Flank
At least eight countries -- the U.S., the U.K., Germany, France, Poland, Turkey, Denmark and Portugal -- pledged to provide equipment to bolster the alliance's eastern flank, an official told reporters on condition of anonymity. Allied defense ministers will review the force posture at a meeting in early June.
In the meantime, NATO has stepped up an air-policing mission over the Baltic states and dispatched AWACS surveillance planes over Poland and Romania. The U.S. sent more F-16 fighter jets to Poland and joined Romania and Bulgaria in naval exercises in the Black Sea.
Polish Prime Minister Donald Tusk said his government will act to increase the presence of NATO forces "step by step" and that the speed of NATO's force build-up in Poland "could have been greater."
"Poland's eastern border is a key part of NATO's borders and it requires special attention," Tusk told reporters in Warsaw today.
Military Exercises
Ukraine plans to host U.S., Polish, Romanian and Moldovan troops in an international exercise running from May to November, according to a law passed by parliament in Kiev today. Ukraine has asked NATO allies for military equipment, though it doesn't want weapons and isn't planning to relaunch a bid for NATO membership, Foreign Minister Andriy Deshchytsya said today in Brussels.
NATO offered help in modernizing Ukraine's military, starting with a visit next week by experts from allied capitals to assess the state of its armed forces. NATO has already coached Kiev's military over 17 years of formal ties, including Ukrainian deployments in Afghanistan.
The strategy for regaining sovereignty over Crimea involves filing legal cases at the International Court of Justice, Deshchytsya said. "We believe that with the international support, we will be able to return Crimea to Ukraine," he said, noting that the court cases will take time.
NATO foreign ministers also gave a political blessing to an earlier decision to halt day-to-day civilian and military contacts with Russia.
Rasmussen said that suspension of "business as usual" won't include stopping joint projects in Afghanistan. The alliance works with Russia on counter-narcotics and helicopter maintenance in Afghanistan, and uses Russian supply routes.
Before it's here, it's on the Bloomberg Terminal.
LEARN MORE