Krona Controls Strain Iceland Pensions as Bubble Risk Builds
Omar R. Valdimarsson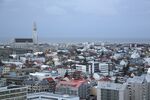 The failure to remove capital controls more than five years after Iceland's collapse is putting retirees at risk as pension funds hold off on investing to avoid building a domestic asset bubble.
Iceland imposed controls to prevent a capital flight after the crash of its three largest banks in 2008 plunged the nation into the worst recession in six decades. The restrictions are preventing pension funds from investing abroad, which has helped double the key stock index and pushed the nation's bond market up by 64 percent since 2009.
"Having capital controls raises the possibility of an asset bubble in the local market," Gunnar Baldvinsson, the chairman of the Icelandic Pension Funds' Association, said in an interview last week. The funds try to "invest gradually and carefully" and should focus on buying infrastructure and companies with operations in foreign cash flow, he said.
Finance Minister Bjarni Benediktsson last week said the country is moving closer to exiting controls and is planning a "number for actions," including potentially forcing the winding-up committees of the failed banks into bankruptcy. The restrictions are blocking about $7.2 billion from being sold, including holdings at the estates of Kaupthing Bank hf, Glitnir Bank hf and Landsbanki Islands hf, the failed banks that defaulted on a combined $85 billion in 2008.
The krona slid 0.03 percent to 155.35 per euro as of 8:15 a.m. local time.
Raising Minimum
Since the end of 2008, a GAMMA index of Icelandic government bonds has gained 64 percent, according to data compiled by Bloomberg. That beats a 23 percent return German bonds and an 11 percent gain on Greek bonds, according to Bloomberg Sovereign Indexes. Iceland's benchmark OMX Iceland 6 index has jumped 103 percent from a low in 2009, even after sliding 7.8 percent this year.
As the crisis has dragged on, the amount that pension funds have offshore has slid to 22 percent of the 2.7 trillion kronur ($24 billion) the industry oversees, from 33 percent at the end of 2008. The 26 pension funds will need to invest about $1.8 billion over the next decade, Arion banki hf estimates.
The growing concentration of domestic assets is adding to risks for the industry. Baldvinsson said the pension industry should raise its offshore investments to a minimum 50 percent.
"The controls reduce the ability of pension funds and other investors to lower risk by spreading investments among different economies," he said. "In the long run, we expect our assets to be more homogeneous and more vulnerable to fluctuations in the domestic economy."
Long Wait
Iceland said back in 2008 the capital controls would be a temporary measure to protect its markets as the crisis peaked. The International Monetary Fund, which has praised the island's crisis management program, says removing restrictions is key to restoring economic health. Still, the Washington-based lender has estimated that if the restrictions are lifted there could be a krona outflow equivalent to 54 percent of 2011 gross domestic product, if the island's residents replicated foreign portfolio investment asset holdings in other Nordic countries.
Iceland, which completed its 33-month IMF program in August 2011, is now outgrowing much of Europe as it recovers. The economy is seen growing 2.7 percent in 2014 and 3 percent in 2015, according to the European Commission.
A survey by Arion last year showed the pension funds were pessimistic on the controls being lifted, expecting it would be until 2022 before they are allowed to invest abroad.
"First when the capital controls were imposed there were few investment opportunities, but as the economy has been picking up there are more opportunities now," said Baldvinsson. "Under these circumstances, we are long-term investors, we don't have to invest each year -- we can wait."
Before it's here, it's on the Bloomberg Terminal.
LEARN MORE