Fixing Baseball's Old-People Problem
By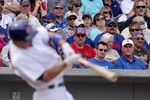 Major League Baseball has the oldest fans of the four major U.S. professional sports. During the World Series last fall, according to data gathered by Sports Media Watch, roughly half of TV viewers were 55 or older—and only 6 percent were under the age of 18. For the whole of last season, the median age for viewers of nationally telecast baseball games on Fox, ESPN, TBS, and the MLB Network was more than 54 years old.

The chart above compares the average viewing age for NFL and MLB broadcasts last season to that for the NBA and NHL so far this season. (Last year's golf majors are also included to try to help baseball feel young.) The numbers come from Brad Adgate of Horizon Media and follow his rule of thumb for sports demographics: The smaller the ball, the older the fan.
This, by itself, is not a crisis. A middle-aged fan base may not be ideal for advertisers, but it's still a large group of people who make more money than, say, the NBA's fans, and who might be convinced to buy team-branded Fender guitars. The more critical problem for baseball is that it does not appear to be restocking its fan base with the old people of tomorrow. The next chart shows the MLB viewership age trend over the last five seasons.

Every year, the median viewing age gets one year older. It's a trend line that ends in a graveyard.
Baseball, of course, is not alone in struggling to get the attention of teenagers and twentysomethings. TV viewers as a whole are getting older. The media landscape, you may have heard, is fracturing, with viewers consuming entertainment in smaller chunks from a wider variety of sources. The general trend is particularly challenging for baseball. To follow one team for every inning of a 162-game season takes about 480 hours—that's two months' worth of full-time work.
The league knows this is a big ask for people not living in retirement homes. Rather than try to buck the trend, MLB offers the game to young people in smaller pieces and lots of different places. The core of this appeal is the At Bat app for tracking or streaming games on mobile devices, which has been the highest-grossing sports app in the Apple store every year since its release in 2008. The same MLB Advanced Media group, known as BAM, that makes the app is making highlights from every game and thousands of hours of archival footage available on YouTube. And last month BAM teamed with several leagues on a one-stop digital highlight service.
Along with serving up the game in two-minute increments, MLB is trying to offer more glimpses of its players away from the field. In 2011, the league introduced the Fan Cave, a studio in downtown Manhattan where players drop in on a few fans who do watch every inning of the season and share their high jinks in a series of online videos. This season the Fan Cave is adding a weekly program on MTV2 called Off the Bat. Young viewers who aren't willing to sit down for a three-hour-long game featuring the Miami Marlins might just watch the team's right fielder, Giancarlo Stanton, hit baseballs off a tee in a junkyard.
For even younger fans, MLB focuses on merchandise. In 2010 the league formed a partnership with Disney to bring out team-branded Mickey Mouse figurines. And this year the league is launching co-branded Hello Kitty merchandise for all 30 teams.
The larger strategy is for quick-hit highlights, celebrity personalities, and Hello Kitty hats to serve as gateway drugs for hours of baseball viewing later in life. TV contracts and ticket sales remain the league's largest revenue streams. Its national TV deals kicking in this year pay $1.5 billion annually through 2021, more than double the rate of previous deals. As the last stronghold of live TV, baseball has benefited from an explosion in sports rights fees. It's hard to imagine the story will be the same in seven years, especially if the average baseball fan has passed 60.
For the game to remain relevant, the side shows need to lead to the Show itself. On this score, baseball's clock-less, old-fashioned pace could serve as an advantage. This is counter-programming for a restless culture. Come for the home runs and fireworks, stay for the seed-spitting and helmet adjustments.