After Customers Complain About Its New Pastries, Starbucks Brings Back Loaf Cake
by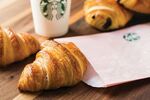 Not everyone appreciated Starbucks's recent attempt to spruce up its pastry lineup with fancy new items by La Boulange. After a slew of customer complaints, the chain is bringing back some old favorites, including the banana, pumpkin, and iced-lemon loaf cakes. "Some customers missed a few things," Troy Alstead, the chain's chief operating officer, told Bloomberg News.
Starbucks's food program has been a thorn in the company's side for years. It has served breakfast sandwiches since 2003, but customers found the smell too strong, so they were reformulated in 2008. Four new sandwiches were just launched this year.
"The artistry of coffee that we've mastered so well for so many years and hold so dear, there's also that exact artistry around food that we just haven't frankly had until now," Alstead said in 2012, the year Starbucks acquired La Boulange. Food, a "multi-billion dollar opportunity," was 19 percent of sales at its U.S. stores at the time. The cafes started rolling out the new La Boulange pastries last year.
Some customers greeted the switch to La Boulange with particular antipathy. One blogger for ocweekly.com called the new pastries "The Most Disgusting Breakfast On Earth," complaining that they were "so shot through with butter—which increases shelf life—that they are all leaden horror stories." Time Out Chicago called the chocolate marble loaf cake "just terrible."
In memoriam, let's recall some of the better complaints issued—where else?—on Twitter:
They got smaller, but the price didn't go down.
People find the faux French thing pretentious.
Nobody likes change.
Before it's here, it's on the Bloomberg Terminal.
LEARN MORE