Oprah Winfrey Stands to Make Even More Money With National Tour
By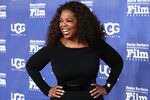 Oprah Winfrey is coming to your city. And your city. And your city. And in doing so, she's about to clean up.
Winfrey is embarking on an eight-city arena tour called "Oprah's The Life You Want Weekend," which is being billed as a real-life reinterpretation of her original Chicago talk show. Each tour stop will last two days, during which Oprah will share her personal success story and interview self-help gurus such as Rob Bell and Eat, Pray, Love author Elizabeth Gilbert. Events will take place at huge, 18,000-seat arenas, and ticket prices range from $99 to $999, which means Oprah can expect to make an estimated $1.8 million to $18 million per city. Not all of that money will go directly to her, of course, but she will get a lot of it; the events are a partnership between her Harpo Studios, her O magazine, her OWN cable network, and William Morris Endeavor (WME).
Assuming Winfrey's fans still buy into the Oprah lifestyle, "The Life You Want" will make her one of the highest-paid public speakers around. She's already well above Zig Ziglar, the late Christian self-help guru and author of the 1970s book See You at the Top, who was paid $70,000 per speech (adjusted for inflation). In 2008, Malcolm Gladwell was raking in about $80,000 per gig, and in 2010 Politico reported that Sarah Palin's price tag was $100,000.
Winfrey is already commanding prices as high as Tony Robbins, whose 2012 "Unleash the Power Within" seminar charged 6,000 attendees from $600 to $2,000 to, among other things, walk over burning coals, bringing in an estimated $3.6 million to $12 million. Although, she still has a few people to beat—namely, the Clintons.
Before it's here, it's on the Bloomberg Terminal.
LEARN MORE