Lufthansa Prepares for Fallout From a Big Pilot Strike
by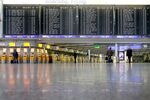 Count yourself lucky if your travel plans this week don't involve Germany. Lufthansa has scrubbed 3,800 flights scheduled for later this week after pilots at Europe's second-largest airline announced a three-day strike beginning on Wednesday. The airline warns that 425,000 passengers will be affected, with only about 500 Lufthansa flights operating during the strike.
The Vereinigung Cockpit union said earlier this month that more than 97 percent of its members at Lufthansa's passenger and cargo units supported walking off the job, in a dispute over salary and retirement benefits. The strike will also affect the airline's lower-cost Germanwings division, which flies mostly shorter routes in Europe. Lufthansa and Germanwings have 1,800 daily flights, on average, or about 5,400 during the three-day period of the planned strike.
"No one of us really wants to strike, and we've been negotiating very patiently, but our patience has run out," the union's chief negotiator, Thomas von Sturm, told German broadcaster Deutsche Welle.
German airport workers held a one-day strike last week, disrupting about a third of the carrier's schedule. Several Lufthansa work groups staged a full-day strike in April 2013, although that action did not include pilots.
The airline's latest proposal, delivered on Sunday, offered no improvement, a Vereinigung spokesman told Bloomberg News today. The airline wants to tie wage increases to the company's financial performance. Lufthansa has been working to trim its cost structure as it confronts fierce competition from an enlarged IAG—the parent of British Airways, Iberia, and Vueling—and heavy growth from Middle Eastern carriers such as Emirates, Etihad, and Qatar, as well as the torrid annual expansion of Turkish Airlines.
"I greatly regret that the Vereinigung Cockpit is not prepared to settle this by negotiations and to find a solution without engaging in a labor dispute," Bettina Volkens, the head of Lufthansa's human resources department and a member of its executive board, said in a statement. "We made good offers for an improved salary as well as a future provision for early leave from flight service."
Union-led airline strikes are rare in the U.S, as a result of the Railway Labor Act, which allows the president to essentially order workers back on the job if their action could harm the national transportation system and commerce. When invoked, the executive branch order creates an emergency board to investigate the dispute and help oversee negotiations. In February 1997, President Clinton intervened to keep 9,000 American Airlines pilots from striking. Four years later, President Bush established such a board to prevent mechanics at Northwest Airlines from going on strike. Pilots at Spirit Airlines staged a five-day strike in 2010.
Before it's here, it's on the Bloomberg Terminal.
LEARN MORE