GM Said to Push Dealers to Build Small-Car Loaner Fleets
Tim Higgins and Keith Naughton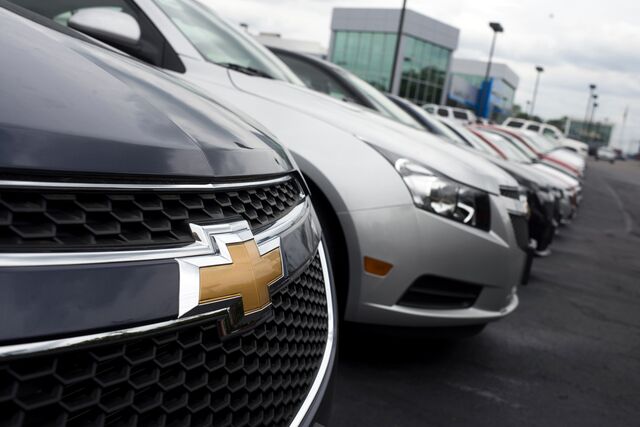 General Motors Co., facing bad publicity over small-car recalls, is trying to retain customer loyalty by encouraging dealers to have loaner cars on hand for owners inconvenienced by repairs.
GM told Chevrolet and Buick dealers last week that they're eligible for $1,000 for each small car added to the loaner fleet in addition to $500 already available, according to a person familiar with the effort. With as many as 2.6 million small-car owners flooding dealerships to have their ignition switch replaced, GM would rather let them drive to work in a new small Chevy than have to rent a Toyota or a Ford for them.
"It's a small step, in addition to everything else we're doing, to ensure we have an adequate supply of courtesy vehicles or rental vehicles available for customers impacted by the ignition-switch recall," said Jim Cain, a GM spokesman. "These are some of our newest and best small vehicles and if somebody wants a test drive, we want to make sure we can provide it."
Dealers typically use demo or courtesy fleets to provide customers with loaner cars or rides to work when their vehicles are getting repaired. The demo-fleet push through about 3,000 Chevrolet and Buick dealers is part of a broader effort by GM to mitigate the damage of the recalls linked to 13 deaths, including posting videos to address customers' questions.
Cain confirmed in a telephone interview that GM was offering an incentive program for dealers' courtesy fleets. He declined to give the details. The incentive program ends today.
Dealers can receive as much as $5,000 in the special incentives, said the person, who asked not to be identified because the matter is private.
'Adequate Supply'
GM Chief Executive Officer Mary Barra is scheduled to testify this week before House and Senate panels looking into why it took years for the automaker to recall the cars after knowing there was a defect. The company has hired its own investigators to determine what went wrong. And the Justice Department is also probing the automaker's actions for possible criminal prosecution, according to a person familiar with the matter.
On Feb. 13, Detroit-based GM announced a safety action that covered 778,562 Chevrolet Cobalts and Pontiac G5s. The recall was widened less than two weeks later by more than 800,000 additional vehicles and last week by 971,000 newer small cars that may have had a bad switch installed as a replacement part. The faulty ignition switches have been linked to 13 deaths.
'Smooth as Possible'
GM is offering dealers $1,000 for each new small car placed into service fleets in addition to the $500 they are normally granted, said the person. Those who buy three for use as demos get two $250 certificates, bringing the incentive total to as much as $5,000, the person said. Chevy's small cars include the Cruze, Sonic and Spark.
For consumers, GM is providing $500 cash for anyone trading in one of the recalled vehicles, in addition to advertised incentives.
Barra told customers in a video on a GM website last week that the company intends to make the recall as "smooth as possible."
The company has empowered dealers to "take extraordinary measures" to help customers, Barra said in remarks prepared for her testimony tomorrow before a U.S. House panel.
"If people do not want to drive a recalled vehicle before it is repaired, dealers can provide them a loaner or rental car -- free of charge," she said. "If a customer is already looking for another car, dealers can provide an additional cash allowance for the purchase or lease of a new vehicle."
Parts to fix the vehicles should begin arriving in dealerships April 7 with enough parts to fix all of the vehicles in place no later than October, GM has said. The fix takes less than an hour to complete, Cain said.
"They're pulling out all of the stops to make it clear that this isn't business as the way GM used to do business," Jack Nerad, executive market analyst at Kelley Blue Book, said in a telephone interview. "The potential of offering loaner cars would be a big difference than what has come before where people were typically inconvenienced in this kind of situation."
GM slid 0.9 percent to $34.42 at the close in New York. The shares have tumbled 16 percent so far this year, in contrast to the Standard & Poor's 500 Index, which rose 1.3 percent.
Before it's here, it's on the Bloomberg Terminal.
LEARN MORE