GM CEO Faces Recall Questions Carrying Corvair-Era Legacy
Tim Higgins and Jeff Plungis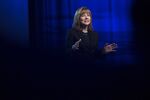 When General Motors Co.'s Mary Barra begins Congressional hearings tomorrow as an emissary of what she's portrayed as a more responsive GM, she will face down decades of skepticism -- plus fresh indications that the automaker decided it would be too expensive to fix the flawed ignition switches behind several deadly crashes.
GM's history of contentious battles over vehicle safety stretch back 50 years to the Corvair. The automaker's reluctance to go public with costly fixes continued into the past decade as it studied ignition-switch failures in the Chevrolet Cobalt but declined to make them, according to documents released yesterday U.S. congressional investigators.
GM opened an engineering inquiry about the Cobalt ignition switch in November 2004, after customers complained the engine "can be keyed off with knee while driving," according to a problem-tracking system document obtained by House investigators. Four months later, the Cobalt program engineering manager rejected a change, citing parts costs and long lead times.
"None of the solutions presents an acceptable business case," according to a GM memo cited by the House committee that didn't identify the engineer. Gary Altman, a GM engineer, testified in a lawsuit last year he was program engineering manager for the Cobalt in March of 2005 and continued in the job until that May. The committee initially attributed the statements to a "project" engineering manager and corrected the title to "program" engineering manager today.
GM didn't immediately return a call seeking comment on Altman's role.
Hearings Focus
Such decisions are set to be the focus of hearings tomorrow in front of the House Energy and Commerce committee, and on April 2 in the Senate. Barra, GM's chief executive officer, is being asked to explain the handling of years of complaints linked to the ignition switches. The switches, when jostled out of position, led to stalling cars and disabled air bags, GM has said, linking the flaw to 13 deaths.
"Lives are at stake, and we will follow the facts where they take us as we work to pinpoint where the system failed," Representative Fred Upton, the chairman of the House Energy and Commerce Committee, said in a statement yesterday. Upton's committee has collected more than 200,000 pages of documents from GM and 6,000 pages from NHTSA, it said yesterday in a memo.
Ignition Flaw
GM has recalled about 2.6 million cars following the revelations about the ignition flaw. Last week, it added 559,000 trucks and 200,000 Cruze compact cars to the recall for different safety issues, bringing the global total for this year to about 5.1 million vehicles. Lawmakers want to know why GM, though aware of the ignition problems in 2001, didn't recall the cars earlier.
Barra, 52 years old, has been CEO for less than three months. She has apologized for the slow response that resulted in deaths. GM has also hired an outside investigator to probe the delay and has created a vice president position in charge of global vehicle safety, as Barra has sought to shore up GM's image and reinforce the automaker's message that it's recreating itself after its taxpayer-funded bailout in 2009.
Bruising Fights
Still, Washington veterans aren't likely to forget GM's bruising fights with regulators and safety advocates such as Ralph Nader. Among the battles, GM has pushed back against claims in the 1990s that its side-saddle gas tanks made pickups vulnerable to explosions and tangled with safety advocates over changes to air bags.
"That's certainly what's on the minds of people who have seen these recalls in the past. She's going to take a beating over that, there isn't any question about that," said Chris Malone, a managing partner at Fidelum Partners, who has studied the effects of recalls on brands.
GM's regulator, the National Highway Traffic Safety Administration, is also expected to come under scrutiny in the Congressional hearings.
NHTSA passed over an opportunity to address the ignition-switch defect in 2007, when it opted not to open a formal defect investigation even after an agency official had said a probe was justified, according to an interview between current NHTSA officials and staff members of the House Energy and Commerce Committee.
Probe Justified
The chief of NHTSA's Defects Assessment Division e-mailed other officials in the Office of Defects Investigation in September 2007, saying owner complaints from 2005 and "early warning" data about warranty repairs and injuries justified a probe, according to the memo from the committee.
"Notwithstanding GM's indications that they see no specific problem pattern, DAD perceives a pattern of non-deployments in these vehicles that does not exist in their peers," the official said, according the memo issued before a committee hearing on vehicle defects.
NHTSA's internal recommendation was based on 29 complaints, four fatal crashes and 14 field reports, according to the House Energy and Commerce Committee memo. Those totals far exceed levels NHTSA cited in opening other air-bag defect investigations, according to the Center for Auto Safety, a consumer-safety group.
NHTSA chose not to open a formal defect investigation in 2007 after reviewing the air-bag data. In 2010, after a special crash investigation report was filed with NHTSA about a May 2009 Cobalt crash, the agency again considered a defect probe focused on the car's air bags. For a second time, the agency backed off after further reviewing data, according to the memo.
Investigation Unwarranted
Acting NHTSA Administrator David Friedman is scheduled to appear before Upton's committee tomorrow, and a Senate committee on April 2.
"As we have stated previously, the agency reviewed data from a number of sources in 2007, but the data we had available at the time did not warrant a formal investigation," a NHTSA spokesman, Nathan Naylor, said. "Recent data presented by GM provides new information and evidence directly linking the ignition switch to the air-bag non-deployment. That's why we are aggressively investigating the timing of GM's recall."
GM approved production of the ignition switch in 2002 even though testing showed torque in the part fell short of the company's original specifications, the part's supplier, Delphi Automotive Plc, told House investigators.
"We deeply regret the events that led to the recall," a GM spokesman, Greg Martin, said in an e-mailed statement. "We are fully cooperating with NHTSA and the Congress, and we welcome the opportunity to help both have a full understanding of the facts."
Default Approach
GM's historical default approach "is definitely to fight," said Joan Claybrook, a former NHTSA head.
"They have been very aggressive and I think it's always gotten them in trouble when they get too aggressive. They were aggressive with Ralph Nader and they made him a national hero," Claybrook said.
Claybrook herself recalls feeling pressure from GM. When the automaker pushed back in the 1990s at efforts to make changes to air bags after the deaths of several children, she said, the company helped orchestrate an effort to paint her as being responsible because she originally advocated for the bags.
"Not a whisper campaign, it was very overt," she said. "It takes a lot of time to fight back."
In an e-mail, the automaker called Claybrook's assertions "baseless."
Denied Reports
In the 1990s, GM repeatedly denied reports that gas tanks in 5 million to 6 million pickup trucks built between 1973 and 1987 were vulnerable to fire and explosion in side collisions. The company portrayed itself as the victim after NBC's "Dateline" admitted staging a crash test using an incendiary device for a report highlighting the issue.
"That was a good camouflage of the real issue," said Clarence Ditlow, executive director of the Center for Auto Safety. "One of the standard tricks they pull out is to create a diversionary tactic and to take the attention away."
The automaker reached a settlement in 1994 with the U.S. Transportation Department after then-Secretary Federico Pena said the automaker knew the trucks had a safety defect and failed to fix it or warn the public. While the settlement didn't include a recall, it required GM to spend $51 million in safety programs, according to the Center for Auto Safety.
GM Bailout
Years of frustration about GM came to a head in late 2008 when the automaker sought Congress's help to stave off collapse. Then-CEO Rick Wagoner endured multiple hearings in which he and other Detroit executives faced tough questions and criticism. While Congress balked at helping GM, the government ultimately spent about $50 billion bailing out the company.
Barra has adopted a less contentious approach than some of her predecessors, telling reporters that it "took too long" for the company to respond to the ignition flaw. She has also appeared in Web videos, in which she expressed contrition and sends condolences to families for their losses. GM has also begun an internal investigation into the ignition safety flaw.
"Mary Barra provides a strong voice to what drives today's GM," GM said in an e-mailed statement. "Our full focus and energy is on what we can do now to take care of our customers and make our safety processes world class. We are cooperating fully with Congress and the NHTSA to help them have a full understanding of the facts."
The approach has earned praise from such observers as Jeffrey Sonnenfeld, a business professor at Yale University.
Case Study
"Mary has jumped past that defensive, circle-the-wagons, over-lawyered response that is especially problematic for new people who haven't yet found their public voice," he said. "She is writing the new case study of how this should be handled."
GM's recent troubles seem familiar to Nader, whose 1965 book "Unsafe at Any Speed" famously detailed how the Chevrolet Corvair's design posed several dangers to drivers.
GM tried to intimidate and discredit Nader and was widely reported to have hired private investigators to look into his private life. Corvair sales plummeted after his book was published, and Nader's work led to NHTSA's creation.
Asked about GM's recent handling of the ignition flaws, Nader said "it's sort of a here-we-go again syndrome. It illustrates that the internal organization of GM still has very serious problems."
Before it's here, it's on the Bloomberg Terminal.
LEARN MORE