College Budget Crusaders Aim to Do What Congress Can't
by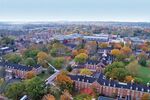 Congress has been maddeningly slow to address the country's long-term debt. College students, whose working lives are still ahead, may have the most to lose if a "debt bomb" detonates on the U.S. economy. A pair of seniors at Miami (Ohio) University's Farmer School of Business are organizing undergraduates to pressure lawmakers into crafting a solution.
"Eventually, there's going to be some kind of grand bargain that gets struck," says Jeff Feiwell, who launched Project Green Room last May with his classmate Stephen Hostelley. "We want to be able to throw our weight behind that, leading the youth vote to a solution, like the AARP of young people."
The group claims about 2,000 followers on social media, and about 45 unpaid volunteers, who are tasked with visiting campus organizations and engaging classmates on fiscal issues. It recently expanded to a second campus, adding a chapter at Ohio State University. When Feiwell and Hostelley graduate in May, they plan to move to Washington, D.C., where they want to raise enough money to expand Project Green Room to 100 campuses.
It sounds admirable and quite possibly quixotic. College students have plenty at stake in America's fiscal future, but may be less inclined to the debt reduction message that Project Green Room champions. A recent survey published by the Pew Research Foundation shows that millennials are more likely to favor big government than older generations. The group's website calls for "a fairer and flatter tax code that serves the purpose of benefiting all Americans." Does that message resonate with college students who have limited experience paying taxes?
Getting students to pay attention to the issue is the biggest challenge, says Steve Wyatt, who chairs the finance department at Farmer. Project Green Room tries to make personal connections between the national debt and government services that students enjoy. Updates on the group's Facebook page include news articles on debt and taxes, and the occasional rap video. "Young people talking to young people about it gives a credibility that older people don't have," Wyatt says. Part of their message is an insistence to classmates that fiscal policy directly affects their wallets—or will, very soon. Under the label "What's at Stake" on their website, they write:
"The government has to pay for this $17 trillion debt by getting the money from you! You will have to pay more in taxes to cover this debt! The businesses you want to work for, or the business you want to start will have to pay more to cover this debt as well. Unfortunately this is going to happen sooner rather than later."
Earlier this year, the group held a case competition that challenged students to craft mock legislation that would balance the budget and start paying down national debt—and that could feasibly pass a politically divided Congress. More than 100 students participated, Feiwell says. Staffers for Senator Rob Portman, an Ohio Republican, and David Mann, a former Democratic congressman who holds local office in Cincinnati, helped judge.
Attracting support from older politicians hasn't been a problem. Former Representative Walter Minnick, an Idaho Democrat, serves as an adviser to Project Green Room. And Alan Simpson, the former Republican senator and current debt-reduction warrior, gave the group a shout-out during a recent appearance on Miami's campus, Feiwell says.
The bigger challenge remains rallying undergrads around an abstraction. Project Green Room wants to reduce the national debt, says Feiwell, but doesn't endorse any specific policies—yet. "We're too small to think we can go out and make that kind of an impact," says Feiwell. "At this point, we want to get kids to understand and care about the issues."
Before it's here, it's on the Bloomberg Terminal.
LEARN MORE