U.S. Stocks Rally, Dollar Weakens After Yellen Speech
Callie Bost and Joseph Ciolli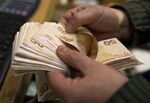 U.S. stocks rose the most in two weeks and the dollar fell as Federal Reserve Chair Janet Yellen said the economy will need further support. Corn entered a bull market.
The Standard & Poor's 500 Index climbed 0.8 percent to 1,872.49 at 4 p.m. in New York, erasing losses from last week. The Stoxx Europe 600 Index added 0.2 percent and emerging-market shares climbed for a seventh day. Ten-year Treasury yields were little changed. The dollar fell against most of its major peers and the yen weakened to a three-week low. Corn futures climbed 2 percent, while gold declined.
Yellen said "considerable slack" in the labor market is evidence that the central bank's unprecedented accommodation will still be needed for "some time" to put Americans back to work. The S&P 500 has risen for five consecutive quarters only seven times since 1957, while European shares are poised for their third quarterly advance.
"People thought the Fed was insinuating they were going to raise short-term interest rates sooner than anticipated," Bruce Bittles, chief investment strategist at RW Baird & Co., said by telephone from Sarasota, Florida. His firm oversees $110 billion. "Yellen's comments probably lay that to rest."
Quarterly Performance
The S&P 500 is up 0.7 percent this month, extending this quarter's increase to 1.3 percent. The index fell last week as investors sold the bull market's biggest winners to lock in gains as they assess how much of the recent economic weakness is weather-related and watched the situation in Ukraine.
That trend reversed itself today, with the Russell 2000 Index jumping 1.8 percent after tumbling 3.5 percent last week. The index is poised for a record seventh straight quarterly advance. The Nasdaq Biotechnology Index rallied 3 percent today.
Yellen said in remarks prepared for a speech in Chicago that large numbers of partly unemployed workers, stagnant wages, lower labor-force participation and longer periods of joblessness show that Fed officials must continue their easing.
The Institute for Supply Management-Chicago Inc. said today its business barometer decreased to 55.9 in March from 59.8 the prior month. Separate reports this week may show that manufacturing expanded further this month, while factory orders probably rebounded in February, according to economists' forecasts in Bloomberg News surveys. The monthly U.S. jobs report is scheduled for April 4.
Calmed Down
"If there was any geopolitical risk, it's calmed down and we're showing some economic momentum," James Paulsen, chief investment strategist at Wells Capital Management, which manages about $360 billion, said by phone. "You take that combo package and say, do I really want to be short going into this jobs number? People are looking through the windshield and saying it looks like the economic data is going to pick up without weather distortion."
The MSCI Emerging Markets Index added 0.9 percent, gaining for a seventh day, its longest winning streak since July.
The Micex Index climbed 1.9 percent. Russia and the U.S. agree on the need for a diplomatic solution to tensions over Ukraine, Russian Foreign Minister Sergei Lavrov said yesterday. The gauge has lost 9 percent this year, the worst quarter since 2011 and the biggest drop among global equity markets.
Turkey's lira strengthened to a three-month high against the dollar. Prime Minister Recep Tayyip Erdogan said a win in local polls hands him a mandate to chase "traitors" within the state who are behind months of graft allegations. His Justice and Development Party won 46 percent of the national vote yesterday, according to unofficial results reported by NTV television with 98 percent of ballot boxes counted.
Treasury Yields
Yields on 10-year Treasuries were at 2.72 percent, according to Bloomberg Bond Trader prices, up from 2.65 percent at the end of February. Treasuries have fallen 0.3 percent in March, based on the Bloomberg U.S. Treasury Bond Index, set for the first monthly decline since December.
The yen declined 0.3 percent to 103.18 per dollar. It has gained 2 percent against its U.S. counterpart this year. The euro advanced 0.6 percent to the yen today, paring its drop for the quarter to 1.8 percent.
The S&P GSCI gauge of 24 commodities fell 0.3 percent, narrowing this quarter's gain to 2.6 percent. Nickel rallied 14 percent this quarter, the most in three years, after shipments were blocked by Indonesia, the world's largest miner of the commodity used to make stainless steel.
Corn futures entered a bull market today as the U.S. government said supplies are tighter than expected. Domestic inventories on March totaled 7.006 billion bushels, smaller than the 7.098 billion forecast by analysts surveyed by Bloomberg, the U.S. Department of Agriculture said.
Before it's here, it's on the Bloomberg Terminal.
LEARN MORE