Trout Agrees to 6-Year Extension With Angels After Cabrera Deal
Erik Matuszewski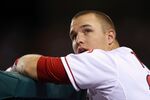 Mike Trout agreed to a six-year contract extension with the Los Angeles Angels after finishing second in voting for the American League Most Valuable Player award in each of his first two full Major League Baseball seasons.
Trout's extension, which would buy out three arbitration years and his first three years of free agency, is worth slightly more than $140 million, MLB.com reported, citing unidentified people familiar with the negotiations.
The Angels didn't disclose financial terms while announcing the agreement on their official Twitter feed. Trout had the same announcement on his Twitter page, though he didn't comment further on the agreement.
Trout, 22, finished second to Miguel Cabrera in the AL MVP voting the past two years. Cabrera agreed yesterday to a contract extension with the Detroit Tigers that will pay him $292 million over the next 10 seasons, CBS Sports said, the richest in baseball history.
Trout last month signed a one-year contract with the Angels, avoiding a possible luxury-tax fee as the two sides worked toward a long-term extension. Trout made $510,000 last season, when he batted .323 with 27 home runs, 97 runs batted in, an AL-leading 109 runs scored and 33 stolen bases.
As a rookie in 2012, Trout hit .326 with 30 homers, 129 runs scored, 83 RBIs and 49 stolen bases.
The only other major leaguers to hit better than .300 with 50 homers and 200 runs scored over their first two full seasons are Albert Pujols and Hall of Fame members Ted Williams and Joe DiMaggio. Trout's extension starts during the 2015 season and would make him a free agent after the 2020 campaign at the age of 29.
Before it's here, it's on the Bloomberg Terminal.
LEARN MORE