Cameron Praises Gay Marriages as Beacon of British Values
Thomas Penny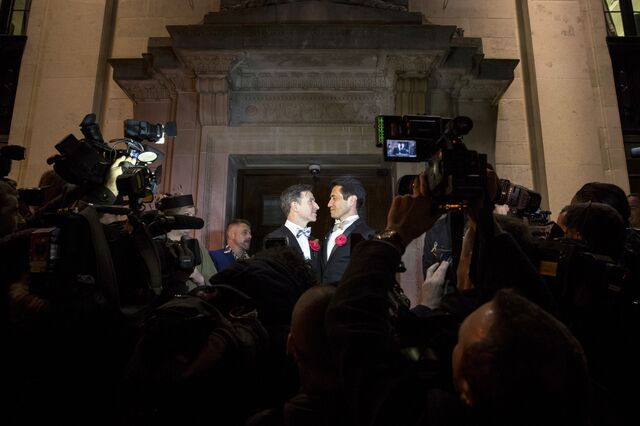 U.K. Prime Minister David Cameron saluted the first gay and lesbian marriages today after a change in the law came into force at midnight.
Same-sex civil marriage gives a "powerful" message that all are equal and should help to give confidence to young people, the premier wrote in an article for PinkNews, which describes itself as Europe's largest gay news service.
"The introduction of same-sex civil marriage says something about the sort of country we are; it says we are a country that will continue to honor its proud traditions of respect, tolerance and equal worth," Cameron wrote. "When people's love is divided by law, it is the law that needs to change."
Cameron pushed through the change in the face of opposition from lawmakers in his own Conservative Party and at risk of alienating core Tory voters. Same-sex couples are now permitted to marry in civil ceremonies and places of worship which opt in, while there are protections in the legislation for religious groups, including Roman Catholics, that object.
A group of religious organizations that championed the move issued a statement welcoming the first marriages and expressing the hope others who are opposed will change their minds.
"As persons of faith, we welcome this further development in our marriage law, which has evolved over the centuries in response to changes in society and in scientific knowledge," the group, which includes Quakers, Liberal Jews, Unitarians and some Anglicans, said in a statement. "We look forward to the time, sooner rather than later, when all people of faith will feel able to welcome this development."
Before it's here, it's on the Bloomberg Terminal.
LEARN MORE