A Charter Airline Shuts Down After 63 Years Flying U.S. Troops
by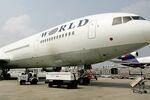 A storied name in U.S. military transport is fading into history. World Airways shut down on Thursday amid a failure to find financing, four months after its parent company blamed Pentagon budget cuts for a sharp squeeze in business and put the airline into bankruptcy.
World Airways was founded in 1948 and transported U.S. troops starting in 1951, when the U.S. entered the Korean conflict. The charter airline flew its last flight on Wednesday, a day after its primary creditor declared the company in default and ended financing; World laid off 325 employees on Thursday. "A lot of people have worked hard to try to save our airline," Eric Bergesen, World Airways' chief operating officer, said in a news release. "Despite this regrettable outcome, I sincerely thank each of our employees for their dedication and continued support as we attempted to build a future for the company."
World's parent, Global Aviation Holdings, blamed the airline's latest financial difficulties on the U.S. Air Mobility Command, the Air Force unit that transports military personnel and supplies, which canceled its 2014 contract with the company as the military adjusted to a tighter budget. That decision stripped World of $54 million in revenue, the company said in its November 2013 filing in Delaware—World's second Chapter 11 filing within a year.
A second charter airline operated by Global Aviation, North American Airlines, continues to fly. That subsidiary operates Boeing 767 aircraft and depends less on military transport business.
Before it's here, it's on the Bloomberg Terminal.
LEARN MORE