Why Business Schools Ignore Women
Linda Scott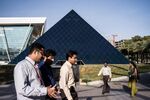 Respected organizations such as the World Bank, the International Monetary Fund, McKinsey, and Goldman Sachs have repeatedly exhorted the business community to do more to include women in the global economy. They are backed by ample research proving that women are economically disadvantaged and that inequality significantly saps national competitiveness, dampens corporate performance, and contributes to social instability. Grasping the consequences of this gender imbalance, more companies around the globe are committing significant funds to support women's economic empowerment.
Confronting the damage that gender exclusion does to the world economy is as urgent an issue as addressing business's effects on the environment was 15 years ago, yet B-schools don't treat it that way. As the data on climate change came in, business school professors all over the world began working intently on ways to account for environmental impact, to calculate the return on sustainable activities, and to manage company operations in a nature-friendly way. Today, managing and measuring environmental impact is a normal part of doing good business.
There's been no similar mobilization around economic inequality between the sexes—despite the calls for action from companies and the authoritative research that confirms it would be good business. No whirlwind of activity from business schools to train students to meet the challenge, or to hold events, found programs, and publish papers in support of the new imperative. The business academy has not rallied. Several factors contribute to this silence:
No awareness. Despite extensive campaigns by powerful institutions and reports in the media, business school faculties remain oblivious. Whether attending conferences internationally or merely having coffee with colleagues, I am repeatedly shocked to find that business professors know very little about a topic many experts believe is the next big issue for companies and nations.
No engagement. The International Finance Corp. and Goldman Sachs recently released a report estimating the world credit gap for women at an astounding $285 billion. Yet, you will not find business professors racing to figure out how and why this is the case, let alone how to fix it. Investment funds in the U.S. and U.K. have called for the development of gender-impact metrics to help evaluate the effects and returns of investing in programs for women. If you mention this to accounting or finance faculty, you get a blank a stare or, worse, a dismissive chuckle.
No materials. No substantial business school effort has risen to convert the masses of data we now have on the economic effects of gender into teaching materials or academic publishing. My team at Oxford produced a case study last year on gender in the coffee industry. A colleague at Harvard subsequently taught the case to a cohort of enthusiastic MBAs. Male and female students alike found the experience stimulating and important, but there are few other materials to build real expertise. (The case is being taught at Oxford and is available for free online, but it won't continue to be taught at Harvard.)
No capacity. If tomorrow's MBAs are to be more enlightened, doctoral students must be trained. I know of no business school that treats women's economic issues as its own subject. There may be a module on women as consumers, maybe a brief nod on a reading list to women in organizations, but that is all. The full scope of how women, as half the species, interact with the economy will not fit into comfortable curricular boxes. So, the topic simply doesn't appear in doctoral training. Students who want to pursue it are warned that they will never get a job. Hence the future capacity to address this global problem is not being built.
No will. Women enroll in MBA programs at a smaller percentage than in other professional schools, including medicine and law. The number of females on business school faculties remains tiny. The fact that B-schools are hostile to women is not news. Harvard's recent public commitment to correct gender bias is, regrettably, unique and courageous. Aside from a few "how to get ahead" programs for women, the current experience of business study is overwhelmingly masculine. It is difficult for champions to emerge under such conditions.
The gender problems are complex; the solutions must be innovative. It is the role of business schools to forge an understanding of the issues, build the methods, and write the materials that will change and enlighten current attitudes. So far, they have failed.
Before it's here, it's on the Bloomberg Terminal.
LEARN MORE