business
Former IBM Chairman's Next Move: Reinventing the Global Corporation
Ira Sager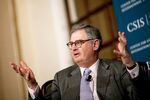 You'd think after running one of the most complex corporations in existence, Sam Palmisano might indulge in the usual CEO retirement package—golf, a few blue chip corporate boards, and some prestigious nonprofit work to round it all out. Life is good, right?
Palmisano, 62, is doing all that. His nonprofit work, though, is no mere hobby. The former IBM chairman, who left the C-suite in 2011, has started a think tank to work with chief executive officers and business schools on building a body of new management principles and providing leadership training for the 21st century global organization.
On April 2, the Center for Global Enterprise will make its official debut, along with a 101-page e-book penned (with a co-writer) by Palmisano. The book offers his perspective on competition in "the first truly global era in human history." (You can read an excerpt here.)
When I point out during his first post-IBM interview that Re-Think: A Path to the Future offers some rare insight into his private life, Palmisano laughs, saying it's no autobiography. "They said, 'If you don't have one chapter in there about you, this thing will be completely boring.'"
Spend some time with Palmisano and you won't be bored. You'll get a lesson in the evolution of the modern corporation, the role of business in society, and some honest talk. (On B-schools: "They're not preparing these young people for what they're dealing with.")
The center and the book, which features examples of global efforts at IBM, Mexico's Cemex, India's Bharti Airtel, and China's Geely, embody management ideas Palmisano first expressed in an article for Foreign Affairs in 2006: Today's global organizations need new management systems, different skills, more collaboration, and less hierarchy.
Most corporations have managed to realize only a small piece of Palmisano's vision—creating a global supply chain, for example. "Nobody's done everything you need to do," he says, seated in a conference room in his suburban Connecticut office. The office lacks the killer 17th-floor Manhattan views of the Madison Avenue office he got to use in his former life. The center does have its own prestigious Park Avenue address, coincidentally also on the 17th floor.
Palmisano, who studied history at Johns Hopkins University, is explaining the hub-and-spoke structure of the traditional multinational corporation, a concept whose past-due date has expired. Headquarters is the hub, he says. The spokes are the distribution outlets for products or services. The problem with that structure is most companies replicate too many headquarter functions—human resources, marketing, finance, and so on—in each regional operation (the spokes). That's a lot of overhead for companies struggling with what he is convinced will continue to be a slow-growth global economy.
Palmisano proposes a new model, what he calls the Globally Integrated Enterprise, structured to operate effortlessly across international borders and placing operations anywhere that makes the most sense. The corporation of the future, he says, will organize around a single global supply chain for services, capital, talent, and intellectual property—managing it as one asset, instead of region by region.
Globalization is not a new concept, of course. Companies woke up to the growing economic power of emerging-market nations more than two decades ago. But Palmisano argues that we are at an "historic inflection point" enabled by advances in technology, open standards, and a reduction in the barriers to trade and investment—making it easier than ever before to share resources regardless of where operations are based.
It's a concept he spent the last year bouncing off friends, colleagues, and other CEOs. Once he was convinced the idea had legs, he began raising money (he won't say how much) and lining up business schools to collaborate on research. So far, Stanford, Peking University, and Insead are on board. Talks continue with the Indian Institute of Management, Harvard, Fudan University, and Brazil's Fundação Dom Cabral. The center will hire fellows expert in such aspects of global enterprise as supply chain efficiency, intellectual property, corporate culture, and market access.
The draw for business schools is "unprecedented insight," says Garth Saloner, dean of Stanford's Graduate School of Business. The center, thanks to Palmisano's A-list connections, will convene small groups of CEOs to discuss their issues freely and help guide the research. "What I hope to get out of this is a set of in-depth case analyses of real-world situations," Saloner says.
The following conversation with Palmisano has been edited for length and clarity.
How did the idea for the Center for Global Enterprise evolve?
We had this lecture series, "Lessons Learned of a Hundred Years," as part of the IBM centennial in 2011. We went to some great schools around the world. When we talked about the things we had done and the world as it is today, the kids would come up at the end and say: 'There's a lot that we need to learn about this. You need to share this. What do you have?'
When we were in Beijing, I figured there would be translation in Mandarin. Well, everything was in English. The only ones asking questions in Mandarin were the faculty. English was the language. I was prepared to speak slowly. I practiced so the kids could get their questions in. There was no societal or cultural gap because of things like the Internet. That was the genesis.
What do you hope to gain from the collaboration with business schools?
If there was more to be learned, then we should scale it so that hundreds of thousands of people can look at the information and learn something. We needed academic partners because they are in the business of creating cases, curriculum, and writing books.
Are B-schools doing enough to prepare their students for the global business issues they'll face?
At least you can get them thinking in a way that they're better prepared for when things happen. Say you're Chinese and bought a European business. What were you taught when you came out of Peking University that prepared you to integrate the Europeans into a Chinese operation? I guarantee you, nothing.
The center will conduct a series of small, private meetings with CEOs around the world. What do you hope to accomplish?
We're trying to do research that maps the pragmatic with the academic. We keep it small—8 to 12 CEOs so they don't have to worry who's in the room. The idea is for the CEOs to tell us where we need to do further research. We have faculty assigned to work with us. We did our first exchange in China. Our next one's at Stanford.
We'll ask the schools participating if they would like to join in the research. We will fund some of the research. We'll collect a library of best practices for people to share. Hopefully by the end of 2015, we will have completed some pretty good studies.
What will the B-schools do with the material?
We'd like to see schools begin to teach some of these things. We would like to see people create MOOCs (massive open online courses), where they're not limited to their residential campuses but open it up to hundreds of thousands of people.
Your book is titled Re-Think: A Path to the Future? What do people need to rethink?
We're trying to get people to reconceptualize how you look at a problem. And, yes, create a new management system, too. You need to do both.
What role does technology play?
The technology enables this. But it's more about how you think about problems than the traditional way you approach corporate strategy or management. I believe you can turn the whole thing upside down. Companies that do are going to have an incredible advantage from a cost structure.
If you were starting something today, what do you have to do yourself and what could you subscribe to [from a cloud-based service]? If I can subscribe to payroll and benefits and have HR only worry about leadership development and hiring, which is what you want them to do anyway, vs. thousands of people building call centers and benefit administration and now worrying about Obamacare and all that junk, why not put it in some global thing and subscribe? We walked very diligently down that path.
How did you apply these concepts at IBM?
We did a lot on the supply chain. We did a lot in finance and accounting. We did a lot in HR. But there were still areas that we were trying to make progress. What's global marketing vs. what's local distribution? We were constantly trying to figure it out. Skills development on a global scale was another area. I could argue that before I left you'd probably have 8 to 10 years to go.
In this economic climate a lot of companies have struggled with growth, but why does IBM appear to have a particularly difficult time growing revenue?
When I was there, IBM was at a different point in time. It was completely different than today. We had to remix the portfolio because we sold $15 billion worth of stuff, PC being the biggest. At the time, it was not viewed as the most popular thing in the world to do. In fact, many people in our industry criticized me.
The world has changed. After the 2008 financial crisis, things got tough. Many people believed that it was going to be another cycle. It's not. It's a systemic shift. There's not a lot of revenue growth in the macro environment unless you're some startup. The typical company is struggling with revenue growth.
What's the answer then?
You need to come up with an agile and flexible management system that lets you enter, reach, and drive new levels of productivity. By "enter and reach" I mean enter new markets. That can be a product or segments and it can be geographies. The easiest way is geographic. In technology, you're looking for new segments. Everybody's running to big data and cloud. You have to find a segment, or you have to find the geography for expansion. But to do that, you need a management system that gives you the flexibility to free up resources. Everybody, even the Chinese, is struggling with this problem. And they all have a different way to approach it.
How did you plan for retirement?
I talked to a lot of people who had been through it—Jack Welch, Lou Gerstner, and A.J. Lafley. They all approached it differently, but there's a common theme: You need something that's going to take up a lot of your time. I just felt that this idea needed to be fleshed out to see if there was something there. Now it turns out there is, so most of my time is spent on the center. It's taking up probably half the month these days.
How are you spending the rest of your time?
I'm still involved with corporate stuff. It's basically carryover from the past: ExxonMobil and American Express, but in the same week. I laid out the month. If I go on boards, they have to be that week. Then I try to make sure I give myself another week in the month to do whatever my wife and I want to do, which we've never had the flexibility [to do].
What have you done for fun lately?
We were skiing out West with the kids for 10 days. I never would have done that. I skied seven days. I wish I hadn't skied seven days. This body is too old to ski seven days in Jackson Hole.
NOTE: Palmisano is a director of the Bloomberg Family Foundation, started by Michael Bloomberg, who owns Bloomberg LP and Bloomberg Businessweek. Bloomberg has helped fund the Center for Global Enterprise.
Before it's here, it's on the Bloomberg Terminal.
LEARN MORE