Ex-Dewey Billing Managers to Plead Guilty in Fraud Probe
Tiffany Kary and Chris Dolmetsch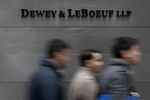 Former Dewey & LeBoeuf LLP billing and accounting managers were among seven ex-employees who agreed to plead guilty and cooperate in the probe of a $200 million fraud that spurred the largest law firm bankruptcy in history.
Six plea agreements reached with Manhattan District Attorney Cyrus R. Vance Jr. were unsealed today in New York State Supreme Court in Manhattan, showing how widespread the alleged fraud was and how thoroughly Vance's office is making its case, said Scott N. Wagner, a partner in the Miami office of Bilzin Sumberg Baena Price & Axelrod LLP.
"It's surprising how many people they brought in to cooperate," Wagner, who isn't involved in the case, said in a phone interview. The low level of some of the six is typical of white-collar crime investigations, where prosecutors work from the bottom up to build a case against top managers, he said.
Former Chairman Steven Davis, ex-Chief Financial Officer Joel Sanders, and Stephen DiCarmine, the former executive director, were accused this month in a 106-count indictment of using accounting gimmicks similar to those that sent top executives at WorldCom Inc. and Tyco International Ltd. to prison a decade ago. Vance's office cited e-mails in which the men referred to "fake income," "cooking the books" and "accounting tricks."
Agreements Unsealed
Plea agreements were unsealed today for billing director Lourdes Rodriguez; Dianne Cascino, director of revenue support; accounting manager Jyhjing "Victoria" Harrington; Controller Thomas Mullikin; David Rodriguez, a specialist in accounting for partner compensation; and Ilya Alter, director of budgeting and planning.
All worked closely with finance director Frank Canellas, whose agreement to plead guilty and cooperate was unsealed yesterday. The employees did things that they knew would inflate Dewey's revenue, and many lied to the outside auditor Ernst & Young, according to their individual plea agreements.
Lourdes Rodriguez, who began as a file clerk at Dewey predecessor firm LeBoeuf, Lamb, Greene & MacRae, became director of billing at Dewey & LeBoeuf after the firm's creation in a 2007 merger with Dewey Ballantine.
She held the position until leaving in 2012. Beginning in 2008, Rodriguez said, she was directed by Sanders to create invoices which she knew wouldn't be sent to clients, and would never be paid.
False Invoices
She in turn instructed those who worked under her to create the invoices, which were used to boost accounts receivable, according to her plea agreement.
Cascino, who pleaded guilty to falsifying business records in the second degree, began at LeBoeuf Lamb 34 years ago and worked as a billing clerk before becoming director of revenue support after the merger.
Although she reported to Sanders, Cascino said she dealt most frequently with Canellas, making accounting adjustments at his direction from 2008 to 2011.
"I knew that these adjustments falsely improved the firm's bottom line," Cascino said in her plea agreement.
While Cascino took orders from Canellas, she understood him to be working at Sanders's direction: "Frank would often ask me to make adjustments immediately after meeting with Joel, and perhaps others, on an upper floor," she said.
Canellas said in his plea agreement that he decided, along with Sanders, "which appropriate and inappropriate accounting adjustments to make" to help Dewey meet financial obligations once it became apparent the firm was failing.
Maximum Penalty
Canellas and the six employees identified today weren't named in this month's indictment. Canellas agreed to plead guilty to grand larceny in the second degree, which carries a maximum penalty of 15 years in prison. He also has been sued by the Securities and Exchange Commission.
His lawyer, Brian E. Maas of Frankfurt Kurnit Klein & Selz PC, declined to comment on the plea agreement yesterday. Lawyers for Sanders, Davis and DiCarmine have denied that their clients committed any crimes.
Judge Robert Stolz signed the order unsealing almost all the documents in the case at Vance's request. Vance had opposed a similar motion by the New York Times, saying the newspaper lacked standing.
Davis Ousted
Dewey filed for bankruptcy in May 2012, owing creditors $245 million. The New York-based firm fell apart within weeks after ousting Davis and watching virtually all its partners quit for competing firms.
Dewey cut costs by mischaracterizing payments to salaried lawyers, reversing disbursements that had been written off, double-booking income, encouraging clients to backdate checks and delaying expenses, Vance's office said.
The criminal case is People v. Davis, 773-2014, New York State Supreme Court, New York County (Manhattan). The SEC case is SEC v. Davis, 14-cv-01528, U.S. District Court, Southern District of New York (Manhattan).
Before it's here, it's on the Bloomberg Terminal.
LEARN MORE