Einhorn Buys Stake in IEX, '60 Minutes' Says
Nick Baker and Michael P. Regan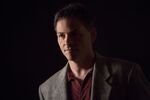 Greenlight Capital Inc.'s David Einhorn invested in IEX Group Inc., a five-month-old trading platform designed to address perceived flaws in the U.S. stock market, according to CBS Corp.'s "60 Minutes."
IEX is "going to succeed in a very big way," Einhorn said, according to a press release from the CBS news program. Gerald Lam, a spokesman for IEX, confirmed the investment by Einhorn's New York-based hedge fund Greenlight. Einhorn declined to comment.
The statement previewed a "60 Minutes" interview in two days with Michael Lewis, whose upcoming book "Flash Boys" argues that high-frequency traders, exchanges and Wall Street banks use legal methods that "cost the rest of the market's players tens of billions of dollars a year," according to CBS.
IEX was set up partly to address concern that technology advances and fragmentation have made the $22 trillion U.S. equity market too fast and opaque. It imposes a delay of 350 microseconds, or 350 millionths of a second, on orders -- enough to curb the fastest trading firms. IEX also aims for greater transparency by making its trading rules available for public review, unlike other electronic venues.
Internal Memos
In the past week, Goldman Sachs Group Inc. and Royal Bank of Canada endorsed New York-based IEX in memos to staff. IEX, which was created by former Royal Bank of Canada traders, doesn't let brokers such as those companies own stakes.
So far, IEX has captured only a small slice of U.S. stock trading. Average daily volume increased to 14.7 million shares in February from 9.1 million in January, and is more than 18 million in March, according to IEX. That's less than 1 percent of the 2014 daily average of 6.9 billion on all U.S. markets, according to data compiled by Bloomberg.
Support from Goldman Sachs could help. It generated $7.17 billion in revenue from equity trading in 2013, excluding accounting charges, the most of any global bank.
IEX Chief Executive Officer Brad Katsuyama left Royal Bank in 2012 to form IEX along with other former traders from the Canadian bank. In a memo to staff yesterday, Royal Bank of Canada's RBC Capital Markets unit said it executed the first trade on IEX in October. Royal Bank also supported the market's development while its founders were still employed at the firm, according to the document.
THOR's Defense
Royal Bank has positioned itself as a champion of making the stock market more fair. It built a software defense known as THOR that tries to protect clients' orders from the fastest traders. Also, the Toronto-based bank doesn't run a dark pool, shunning a common practice among the world's biggest brokerages including Goldman Sachs. On broker-owned dark pools, customers' orders are executed privately instead of being sent to public exchanges.
"We have always been strongly opposed to predatory trading strategies," according to the Royal Bank memo. "RBC and IEX are fully aligned and have a shared philosophy of creating a fair and open market structure for investors and all industry participants."
Kait Conetta, an RBC spokeswoman, confirmed the document is authentic and declined to comment further. Royal Bank is Canada's second-largest lender by assets.
"We are at the forefront of significant market structure reform," Royal Bank said in its memo. "While we may see other industry participants potentially amending their practices based on recent developments, our approach as the client advocate has been consistent from day one and we will continue to stand by this philosophy in the months and years to come."
'Critical Mass'
Goldman Sachs said in its own memo last week that "it would be best for the overall market if IEX achieved critical mass, even if that results in reduced volumes" on Sigma X, the Goldman Sachs dark pool.
The endorsements of IEX come amid heightened scrutiny of the structure and vulnerabilities of the U.S. stock market, where more than 50 electronic venues compete to match buyers with sellers. New York Attorney General Eric Schneiderman said last week that he's investigating whether exchanges and other venues are giving high-speed traders improper advantages. Two days later, Goldman Sachs President Gary Cohn published a column in the Wall Street Journal calling for changes to the market's structure to reduce trading disruptions.
Daniel Gallagher of the U.S. Securities and Exchange Commission said today that high-frequency traders face perceptions that the market is unfair for small investors and that regulators should review the practice.
'A Reality'
"The problem with high-frequency trading right now is that there's a perception that for the little guy, the markets aren't fair," Commissioner Gallagher told CNBC during an interview. "That perception to me is a reality. It's something we need to address."
Even IntercontinentalExchange Group Inc. CEO Jeff Sprecher, whose firm bought the New York Stock Exchange in November, said last year that small investors are being ripped off by sophisticated traders.
Nasdaq OMX Group Inc. CEO Robert Greifeld warned yesterday against banning high-frequency trading, saying those firms provide needed liquidity to equity markets.
"People are going to be very hesitant to put in policies that removes liquidity from the market," he said during a Nasdaq investor meeting. "I don't see anything happening in the near term. I think when the regulators or people who know the market, know the economic data in front of them, they can be loath to take liquidity away from the market."
Before it's here, it's on the Bloomberg Terminal.
LEARN MORE