Codere Shareholders Seek to Keep Control in New Debt Plan
Katie Linsell and Julie Miecamp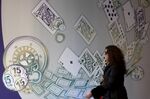 Codere SA's restructuring remains deadlocked after the Spanish gaming company's board rejected a debt-for-equity swap proposed by creditors and offered new terms allowing shareholders to maintain their controlling stake.
The board said bondholders' March 20 plan to inject as much as 400 million euros ($549 million) of new money in exchange for 96.8 percent of its equity was too costly, according to a letter sent to creditors yesterday and seen by Bloomberg News. It's now proposing a 5 1/2-year moratorium on bond interest payments or a 50 percent writedown on the debt and conversion into 8 percent notes to a maximum size of 250 million euros, and no equity stake for creditors.
Codere must agree a restructuring by April 30 or seek full protection known as concurso under the nation's bankruptcy laws. The Madrid-based company has reported losses for eight straight quarters with earnings crimped by recessions and higher taxes in its European markets and stricter gaming regulations and smoking bans in Latin America.
"The board will continue to make its best efforts to reach a consensual solution before having to seek full creditor protection and strictly observing Spanish laws, especially bankruptcy laws," the board said in the letter.
It rejected creditors' claims in a March 12 letter that new Spanish legislation governing restructurings supported their proposal for a debt-for-equity swap. A Madrid-based official for Codere declined to comment on the letter.
Loan Replacement
Under the alternative proposal the company's 127.1 million -euro loan would be replaced by a new instrument priced according to the market and paying 7 percent interest, the board said in the letter.
The founding Martinez Sampedro family is fighting to retain as much control as possible in Codere. Siblings chairman Jose Antonio Martinez Sampedro, Luis Javier Martinez Sampedro and Encarnacion Martinez Sampedro own 68.5 percent of the company, according to regulatory filings.
Codere had total net debt of 1.1 billion euros at the end of 2013 and earnings before interest, tax, depreciation and amortization of 206 million euros, according to a Feb. 28 earnings report.
The company sought preliminary creditor protection on Jan. 2, giving it four months to agree a restructuring plan or start insolvency proceedings. About 95 percent of companies that enter the concurso process end up in liquidation, according to the Madrid-based Colegio de Registradores, which tracks company registrations.
Codere's 660 million euros of 8.25 percent notes due June 2015 were little changed, quoted at 48 cents on the euro, according to Bloomberg prices.
Before it's here, it's on the Bloomberg Terminal.
LEARN MORE