B-Schools Ape Facebook, Atlanta Deans Shuffle, HBX, and More: The Week in Business Education
Laura Lorenzetti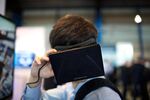 The running of the deans
This week, Paul Danos, the 20-year dean of Dartmouth's Tuck School of Business, said he would step down after next year's graduation. Tuck won't be the only school on the lookout for new leadership. Baruch College wooed Dr. Fenwick Huss away from Georgia State University to name him the new head of Zicklin. Meanwhile, Atlanta neighbor Georgia Tech hooked Maryam Alavi as its new business school dean, leaving Emory's Goizueta still in search of a permanent chief.
The class with a billion-dollar payoff?
Entrepreneurship is all the rage these days, and it's little surprise that, in the heart of Silicon Valley, almost all of Stanford GSB's 809 MBAs dip their toes in the startup well. Students can pitch, iterate, pivot, and do it all again in programs such as Startup Garage, which Fortune highlighted this week. Though Stanford may be an obvious choice for the startup-minded, it's Harvard that holds the title for launching the most top MBA-founded startups.
Get your headset, the future is now
Virtual reality is having a moment, and Facebook is buying in. Business schools aren't about to fall behind, and many are seeking out high-tech programs to build immersive digital experiences for their students, much like an Excel-laden World of Warcraft. While programs such as Second Life have been around since the late 2000s, better software is popping up to create business simulations for virtual learning and connect students half a world away.
Beyond the MOOC
Harvard veered from the well-worn MOOC path last week as it launched its new online education platform HBX. It's offering a two-month, $1,500 digital immersion targeted at current undergrad and grad students. The HBX platform, which promises all the brainpower of HBS faculty, could open a huge market for the school beyond the traditional MBA candidates, especially as it adds specialty courses and language options.
Who's who of grad speakers
Commencement speaker announcements have begun. Students at some top universities are holding out hope for big-name gurus to compete with the likes of President Obama and former New York City Mayor (and Bloomberg LP founder) Michael Bloomberg, who have already signed up for mid-May speaking gigs. MBA candidates are also watching the names slowly trickle in as Stanford announced Nike Chairman Phil Knight will speak at the B-school graduation. Wharton and Michigan's Ross have also announced big-name speakers so far.
Before it's here, it's on the Bloomberg Terminal.
LEARN MORE