business
Tesla Maneuvers Another Store Into Ohio—and Leaves Roadblocks for Rivals
By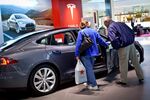 If sports cars and spaceships don't work out for Elon Musk, he should think about becoming a local lawmaker. Tesla Motors has managed to slide into a new deal in Ohio that would give it another store in the state—its third—while boxing out any competitors angling to mimic its direct-to-consumer sales model. The potential resolution was tacked on as an amendment to a bill that would stop companies from selling cars directly to consumers.
For old-fashioned car dealers, which have fought Tesla's business model from the outset, the agreement is a way to slam the door on direct sales without appearing too conniving. For Tesla, meanwhile, it's a way to stay in front of potential competitors and make sure its sales strategy remains unique. The company is even hoping those fighting its distribution model in New Jersey and other states draft settlements similar to the deal in Ohio.
 
But Tesla is also making a bit of a risky assumption: that consumers will drive a long way to kick the tires on its fuel-free sedan. The automaker currently has in-house dealerships in Cincinnati and Columbus, and the new legislation would let it cut the ribbon on one in Cleveland—three cities that stitch across the state in a fairly straight line, from the southwest to the northeast. A potential customer in Athens, however, would still need to drive about 80 minutes to get to the closest Tesla dealership, while a would-be buyer in Defiance is looking at an almost three-hour ride for a test drive.

At the moment, someone with "Tesla fever" probably would make that trip without blinking an eye. The company's offering is a shiny new force in the marketplace. But in four years, when the local BMW dealership has some slick, plugin carbon-fiber machines, Tesla might have a more difficult time pulling in the crowds. That's why it's describing the compromise as "sufficient for now."
Meanwhile, a lawmaker in New Jersey has floated a proposal that would allow automakers to engage in direct sales only of their electric vehicles. The Tesla champion behind the bill, Assemblyman Tim Eustace, makes the argument that people will travel to buy one. Here's the crux of his statement posted on his Facebook account: "In the end, it will be the residents of our state and our environment, who lose out."
Before it's here, it's on the Bloomberg Terminal.
LEARN MORE